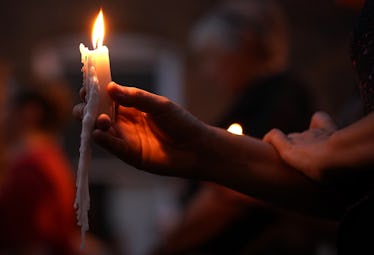 The Country Is Gathering To Honor Las Vegas, Here's How To Find A Vigil Near You
Win McNamee/Getty Images News/Getty Images
On Monday Oct. 1, a 64-year-old man unleashed a flurry of bullets onto a crowd in Las Vegas, killing at least 59 people and injuring over 500. If you'd like to pay your respects to those who lost their lives to this completely awful, senseless tragedy, and are already searching "where is a vigil for Las Vegas," we've got you covered. Here's a national list of upcoming gatherings and prayer circles.
A country music festival ended in tragedy when a shooter stood on the 32nd floor of the Mandalay Bay Hotel and took aim at the crowd below. The massacre is being recorded as the deadliest in modern U.S. history. Victims of the shooting included a kindergarten teacher, a police records technician, and a registered nurse, among many others.
Those who survived recounted a terrifying, horrendous scene. Survivor Kimberley Folle told CNN,
I thought that I was gonna die. I was just running as fast as I could, calling everybody that I could think of to let them know what was going on and just to say, you know, I loved them. I'm crying. I'm running. I'm out of breath. I'm, you know, freaking out trying to explain it.
If you live in Las Vegas, there's plenty of opportunities to light a candle for the people who lost their lives, and say a prayer for those who are still recovering.
There are two vigils in Las Vegas already scheduled for Oct. 2. Las Vegas Mayor Carolyn Goodman and faith leaders will host a prayer vigil at City Hall at 5 p.m. (495 S. Main Street) on Oct. 2. There will also be candlelight services throughout the city, including an interfaith service at Guardian Angel Cathedral at 5 p.m. at 302 Cathedral Way and St. Viator Catholic Community, which will hold a candlight prayer service at 7 p.m. at 2161 E. Flamingo Rd.
Around the country, there are multiple opportunities as well.
Washington D.C.
There will be a vigil in Washington D.C., at Kogan Plaza, 2121 I St NW, Washington, District of Columbia 20037 on Oct. 2, from 8:30 PM - 9:00 PM. The student-led event will include a moment of silence, and an open floor for anyone to speak.
There's also an opportunity to pay your respects in D.C. on Oct. 5 at 7 PM, when a vigil will be held at Freedom Plaza, 14TH St, Washington, District of Columbia 20004.
If you're in neighboring Maryland, you can head to a community vigil in Bethesda, at the Cedar Lane Unitarian Universalist Church, 9601 Cedar Ln, Bethesda, Maryland 20814. The service will be held from 7 PM - 9M on Oct. 2, and it's open to all faiths.
New York
If you're looking for a vigil in New York City, there will be one held at Brooklyn Borough Hall, 209 Joralemon St, New York, New York 11201, on Oct. 3. A statement on Facebook read,
Join Brooklyn Borough President Eric L. Adams for an interfaith candlelight vigil in honor of the victims of the mass shooting in Las Vegas – the deadliest attack in modern American history – and all those we have lost to senseless gun violence. Oct. 3, 6 PM - 8 PM.
At New York University, students also held a vigil on the afternoon of Oct. 2.
California
Californians can visit All Saints Parish, 2550 E Main St, Ventura, CA 93003 on Oct. 2, from 7 PM - 8 PM. Per Facebook,
We cannot allow mental illness or guns to take the joy and love out of our lives. Please join us, to find comfort in each other in this time of sorrow.All Saints Parish (Bishop Craig Chapman) in Ventura is welcoming all of us into their chapel of LOVE and PEACE. All FAITHS and backgrounds are welcome, as we are all part of God's creation.
There will also be a vigil held in San Diego on Oct. 4 from 8 PM-9:30 PM, at Flood College 3878 Ruffin Rd, 92123.
Virginia
There are several vigils being held in Virginia, including one at on Oct. 3, at the Calvary Baptist Church in Roanoke, VA, 608 Campbell Ave SW, 24016. The service will be held from 6:30-7:00 PM. For a Christian prayer vigil, head to Virginia Gateway shopping center on Oct. 4. The organizer wrote on Facebook,
Whether you can come for the entire time or just a few moments, whether you pray out loud or to yourself, whether we have hundreds or only a handful, I still urge you to join us. Please bring a candle and a prayerful heart.
Florida
From 7 PM- 8 PM on Oct. 2, there will be a vigil held at Azalea Park United Methodist Church 50 Willow Dr, 32807 in Orlando, Florida.
This is not a comprehensive list of vigils and events, and some may still be in the works. If you'd like to attend a vigil in your city, check out Facebook's ongoing list of events, or organize one of your own.
If you'd like to donate to victims in the wake of this tragic shooting, you can find a guide to different donation options here.