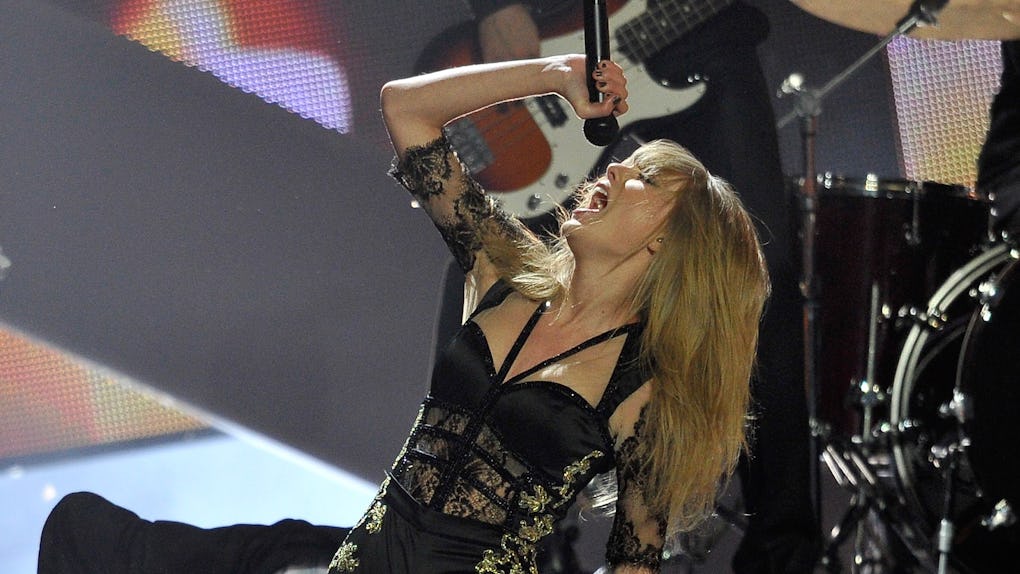 Matt Kent/Getty Images Entertainment/Getty Images
Video Of Taylor Swift & Bryan Adams Singing "Summer Of '69" Is Your New Summer Jam
Taylor Swift and Bryan Adams singing about the best days of their lives is the revamped summer anthem you didn't know you needed. During the "Shake It Off" songstress's Toronto Reputation tour stop on Saturday, Aug. 4, she surprised the crowd with a tune that's sure to take you on a trip down memory lane. This video of Taylor Swift and Bryan Adams singing "Summer Of '69" at her show is pure magic, and it's the summer of 2018 tune you're going to be jamming out to until September. Yes, Tay's version is going to be stuck in your head all day, and yes, this is a good thing.
Swift might be a superstar in her own right, but even she isn't immune to getting starstruck, particularly when it comes to Canadian rocker Bryan Adams. Adams, who famously penned "Summer Of '69'" in 1984, is pretty much rock star royalty, and Swift apparently reached out to him after hearing he would be in town. Luckily the stars aligned, and now you can watch this glorious gem of a duet. Here's how it all went down.
After cycling through a few of her hits, the "Delicate" hitmaker addressed the crowd with a hint of the nostalgia fest that was to come.
"It's just one of my favorite songs ever written — it's not one of mine, but I was wondering, like, you guys have been singing so loud all night, but I really wanted to see how loud it could be, right?" she said to her fans before launching into a solo rendition of the first verse, according to Billboard.
That's when Adams — holding his guitar — emerged from a hidden trap door and the crowd went wild, per Billboard. Their performance was all kinds of epic as the pair rocked out to the classic single, at times improvising and adding to the OG track. It was all so magical, and one look at Swift's face proves that she was having the time of her life.
Swift took to her Instagram Story to share a handful of videos from the unforgettable night, and I couldn't help but notice how much fun she was having during the song. Her face literally lit up. She was the ultimate fan girl, and she didn't care who knew it.
Swift captioned the video post on her IG:
"HONESTLY IT WAS JUST SO MUCH FUN 💥🌸🌷🌲☀️⭐️✨🥂🎤🎼🎸🎆🎁🎉🎀💗🇨🇦 @bryanadams is so 🆒"
She also posted the backstory of the whole surprise via Instagram, and it's pretty heartwarming. "I didn't even know Bryan was gonna be in town until last night, and I asked him completely last minute if he wanted to come sing!!" she admitted. "Pretty evident from the videos (um yes I'm posting another one) that I'm FULLY LOSING IT with excitement, and I can't thank @bryanadams enough."
Toward the end of their duet, she addressed the crowd again, saying, "Toronto, you need to tell Bryan Adams how you feel that he decided to come and surprise you!" While the crowd cheered and clapped, she faced off with Adams in the most epic guitar battle ever before finishing things off with a hug.
After watching the incredible vids, this is me right now.
Taylor Swift previously paid homage to the track back in 2011 while performing in Vancouver, Canada, per Billboard, but this duet officially takes things to the next level. I'm calling it now: It's going to be the summer of '18 anthem you've got on repeat.