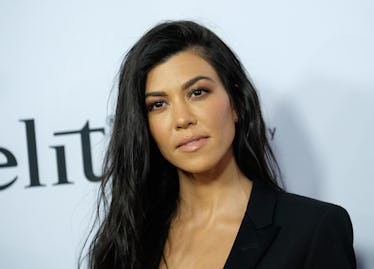 Kourtney Kardashian Plans Birthday Surprise For Her BF In 'KUWTK' Clip & It's Adorable
CHRIS DELMAS/AFP/Getty Images
As reports about Kourtney Kardashian's pregnancy swirl and the reality star has yet to confirm or deny any of the buzz, fans have been looking for more details about her BF. Never fear, this Keeping Up With The Kardashians sneak peek gives a look at Kourtney Kardashian's birthday surprise for Younes Bendjima and you can see just how much she's totally into him. It's beyond adorable, really.
In the clip, Kardashian sits in the car with sister Khloé and pal Jonathan Cheban, while she puts together a surprise for Bendjima. What's she got planned? Oh, just slipping him a hotel room key. No big deal.
The whole thing has Kourtney a little bit "giddy," as Khloé explains, but she also notes that she doesn't want to make a big deal out of it because Kourtney will get "super awkward."
Watch as Kourtney tries to figure out how to best present the hotel key to him as part of a sexy gift. Oh my gosh, she's totally nervously fumbling around trying to sort it all out and it's so, so cute to see her obviously excited about the whole thing. Of course, you have to tune in to KUWTK to see how the whole gift goes over!
Her assistant comes to the car to get Kourtney's gift for Bendjima. She can't figure out how to put it all together though, so Cheban suggests, "Just be fun," adding, "You're so f*ck*ng weird about it!"
Khloé explains the whole scene in a confessional later with Kim, noting: "I know Kourt has been out on the dating scene recently — she's planning a little birthday surprise tonight. I don't really know the details of tonight, but she's doing this whole exchange. She's putting a hotel [room] key into this wallet."
She added, "I've never known Kourtney to be this giddy, ever in my life. I've never known Kourtney to plan anything. It's so cute though, to see her this giddy!"
OK, giddy? Suddenly planning for a guy? Yeah, sounds like she's loving her man, for sure.
Khloé added that she knows "a little bit about this guy," but won't ask too much about him because Kourtney will get "super awkward."
Kim agreed, saying, "Don't, no. Don't ask, don't tell." Total sister code. Respect.
Khloé adds that asking too much wouldn't go over well, explaining: "She like, will shut down."
A debate over Kourtney's giddiness kicked up in the YouTube comments section, with one fan asking: "Anyone else wonder why Kourtney Kardashian never did all the special things she is doing with Younes for Scott? It's like she's more fun and accepting and open minded."
One person answered with this explanation: "Because she probably gave up... disappointed too many times in whatever really disappoints her about him."
Others commented: "She looks so happy nowadays... love it" and "This is so cute."
While there's been no official news confirming the Kourtney Kardashian pregnancy reports, it does look like she and the 24-year-old model are very happy together. As if this KUWTK clip isn't enough proof that there's a total love connection, the fact that they look so loved up whenever they're photographed out and about or on vacation shows Kourtney is living her best life right now. As it should be.
A source told People recently that Kourtney is enjoying dating the young model, noting she "likes her relationship with Younes, because it's all fun and play."
You can check out Keeping Up With the Kardashians on E! at 9 p.m. ET on Sundays.
Check out the entire Gen Why series and other videos on Facebook and the Bustle app across Apple TV, Roku, and Amazon Fire TV.