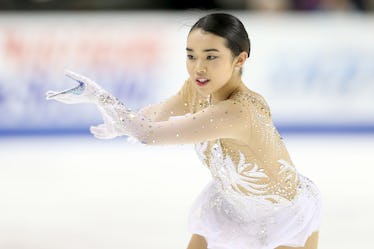 Karen Chen's Short Program Was Angelic & The Video Has Me Feeling So Serene
Matthew Stockman/Getty Images Sport/Getty Images
Good morning to the Olympic figure skaters and nobody else. Let's be real – there are only a handful of Olympic Winter sports that the general public can tune into and understand what the hell is actually going on, and one of the big ones is figure skating. This year, not only are the skaters bringing their talent to the ice, they're also bringing their personalities, song choices, and all-around openness and vulnerability. The video of Karen Chen's short program proves she is one of the best.
The 18-year-old athlete made her Olympic debut in the 2018 Winter Games in PyeongChang, South Korea, and she's not there to make friends. Well, not really. Chen might be known for her shy demeanor off the ice, but on the ice, she is confident, collected, and bold. In fact, she made the decision to train outside of the Olympic Village to avoid any distractions and to get more personalized time on the ice. Olympic athlete friendships be damned.
According to Mercury News, Chen spent her first week at the Olympics training two hours away from the village where she could focus on her skate. Had she stayed with the other athletes, Chen would have had one 40-minute practice session a day, instead of the multiple hours on ice that she gave herself by traveling.
Chen admitted,
I don't like too much attention. I am an introvert. I like to keep things to myself. When the attention is drawn away from me that is when I feel the best physically and mentally.
Knowing what she needs to perform is part of what makes her a great athlete. But don't confuse her privacy with insecurity. She said, "I feel like seriously the best I've been. Now that I am here, I am really ready to make this an Olympic moment I'll never forget."
She added,
I wanted to be in the Village and be around the athletes but I am willing to do whatever it takes to have my best skates at the right time. I feel like I am ready for this and ready to experience this Olympics.
All of the hard work paid off.
In her short program routine, Chen pulled off an angelic routine in all white, set to pianist Dave Grusin's "On Golden Pond," which had the arena echoing with quiet bird calls and a sense of peace. Chen herself looked serene and majestic, and it's making me feel honestly so relaxed. Take a look (and a deep breath in, and a deep breath out).
According to NBC Olympics, Chen might have channeled some of her strength from watching her male USA teammates. She said, "I was really emotional, they all put out such great performances and it was so inspiring to see them go out there."
Plus, she got a little extra inspiration from her friend and 1992 Olympic gold medalist, Kristi Yamaguchi. They are both from Fremont, California, and Chen said she was able to grab a coffee with Yamaguchi before the 2018 Winter Games. Chen said,
I am thankful to say that our relationship has prospered and progressed... I was able to talk to her before the nationals. We just talked and she shared her experiences and all the fun time she had at the Olympics to really hype me up. I am forever grateful to Kristi.
We're forever grateful for you, Karen! Hopefully, you're celebrating somewhere.
Erin Jackson is an inline skating world medalist and roller derby MVP. She dreamed of skating in the Olympics, but to do that, she had to get on ice. She took her first steps on a long-track course in 2016 and started training professionally in September 2017. Four months later, she qualified for the Olympic Winter Games. Check out Elite Daily Insights' video on Jackson's incredible story: