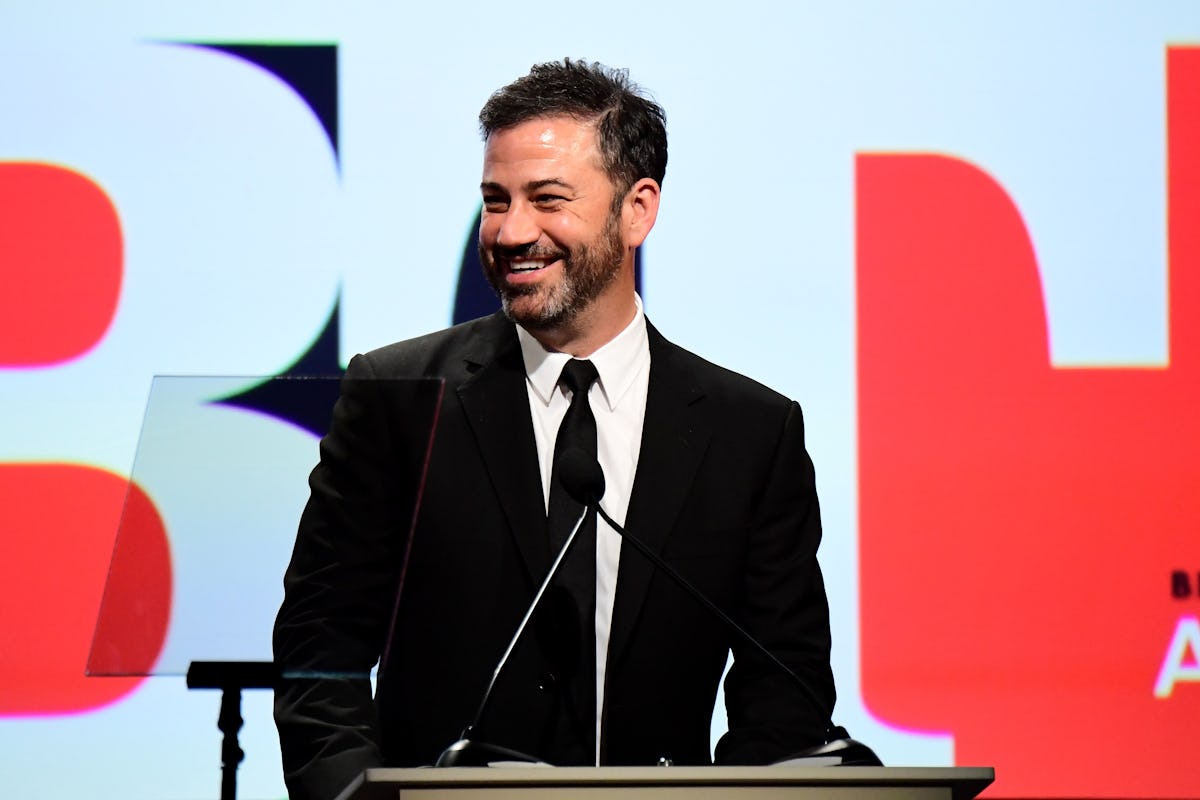 Jimmy Kimmel Made Fun Of Trump's Ivy League Brag By Pointing Out The Obvious
Emma McIntyre/Getty Images Entertainment/Getty Images
While fielding questions from reporters on Wednesday afternoon, Oct. 25, President Donald Trump trumpeted his experience at an Ivy League school while explaining how smart he is. Predictably, his explanation became material for late night monologues. A video of Jimmy Kimmel mocking Trump's Ivy League brag shows the comedian pointing out the obvious: it's just a little bit awkward hearing the president trying to convince people he's smart.
Kimmel said,
When you're the president of the United States and you have to tell others that you're a very intelligent person, not a great sign. Like if Shaquille O'Neal had to say, 'Listen, I'm a very tall person,' we'd be confused.
Trump's remarks on his personality, his school history and his IQ came during an impromptu press conference the president gave while he was walking on the South Lawn of the White House, before boarding Marine One to travel to Dallas, where he provided an update on hurricane relief efforts.
During the makeshift conference, Trump was asked whether he bears responsibility for the any toxic nature the national political discourse has taken on. Trump replied by essentially saying media stories make him out to look like a bad guy. The president said,
I think the press makes me more uncivil than I am. People don't understand: I went to an Ivy League college, I was a nice student, I did very well. I'm a very intelligent person. The fact is I think, I really believe, I think the press creates a different image of Donald Trump than the real person.
While the way in which President Trump framed his answer might have been a little bit funny (OK, maybe a lot bit funny), the overall subject he was discussing with reporters was anything but. Trump was asked the question about his role in the uncivil state of politics because, within the previous ten days, notable members of his own party have all but insisted he's had a major role.
On Tuesday afternoon, Sen. Jeff Flake (R-AZ) announced that we would not be running for reelection in 2018. When he gave a speech on the Senate floor explaining why, the senator delivered an implicit criticism of President Trump.
We must never regard as 'normal' the regular and casual undermining of our democratic norms and ideals. We must never meekly accept the daily sundering of our country — the personal attacks, the threats against principles, freedoms, and institutions, the flagrant disregard for truth or decency, the reckless provocations, most often for the pettiest and most personal reasons, reasons having nothing whatsoever to do with the fortunes of the people that we have all been elected to serve.
On Tuesday morning, hours before Flake made his announcement, Sen. Bob Corker (R-TN) also delivered stinging criticism of Trump, telling reporters,
I think the things that are happening right now that are harmful to our nation, whether it's the breaking down of — we are going to be doing hearings on some of the things that he [Trump] purposely is breaking down — relationships we have around the world that have been useful to our nation. But I think at the end of the day, when his term is over, I think the debasing of our nation, the constant non-truth telling, just the name-calling ... I think the debasement of our nation will be what he'll be remembered most for, and that's regretful.
Both senators, notably, have criticized Trump without the responsibility of having to campaign for reelection in the next 12 months. Or, as Jimmy Kimmel described it,
It's a little bit like when you and your girlfriend break up, and, on the way out the door, she tells you, 'none of my orgasms were real by the way!'
That's — uh — certainly one way to put it.