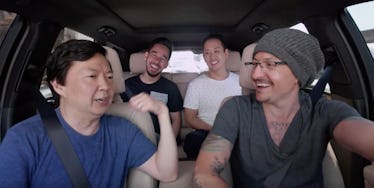 Chester Bennington's 'Carpool Karaoke' Video Has Been Released & It's Heartbreaking
The death of Linkin Park frontman Chester Bennington left fans devastated and this new footage of the singer is definitely bittersweet. Watch the video of Chester Bennington's Carpool Karaoke to see the singer in happier times, just one week before his passing. You're guaranteed to shed a tear over this one, so have the tissues handy.
Bennington filmed the episode of the hit series with his Linkin Park bandmates and actor Ken Jeong. While the episode sat for a time, his family signed off on airing it finally. The band posted it on their Facebook page today.
Prior to the episode's start, a statement reads: "With the blessing of Chester's family and his bandmates, we share this episode, and dedicate it to the memory of Chester."
The whole thing is amazing, brilliant, and especially touching given his tragic passing just six days later. It kicks off with Jeong saying he wants to join their band, with Bennington telling him, "We'll see" and Jeong joking, "It feels like a band already. We're already fighting."
The car gang tackles some truly fun tunes, from Outkast's "Hey Ya," to Linkin Park's "Numb," "In the End," and "Talking to Myself," as well as the Red Hot Chili Peppers' classic "Under the Bridge."
What could be better? How about the moment when they upgrade their ride to a party bus? Epic. Bennington appears to be in good spirits throughout, singing and dancing and enjoying all the fun, as they take on karaoke staples "Sweet Home Alabama" by Lynyrd Skynyrd and Aerosmith's "I Don't Wanna Miss a Thing."
The episode even gives fans a peek at Bennington's love for Dungeons & Dragons, which he explains, "I am a seventh-level mage." Other highlights include the band's dance break, Jeong's lesson on how to "scring" (scream-sing), and Bennington's no hands driving moment when he explains, "Dude, you don't realize... I was driving without my hands for like half that ride, because we were rocking."
It's particularly heartbreaking to hear Bennington talk about his kids, saying, "I just want my kids to find something that they're passionate about."
When news of Bennington's death on July 20 broke, Jeong took to Twitter to share his thoughts, writing: "I am in shock and heartbroken. All my thoughts and prayers go out to Chester and his family and friends at this time."
Along with the Facebook post, Linkin Park shared information about the One More Light Fund, explaining: "The One More Light Fund was established to honor Chester. If you would like to make a gift in his memory please visit http://lprk.co/OMLFund."
Fans were moved by the Carpool Karaoke session, with Twitter lighting up with reactions, including: "chester was so smiley in the carpool karaoke video and that's how we need to remember him ‪#makechesterproud" and "I was blown away by Chester's singing on Carpool Karaoke. I'm always astounded watching him sing. One of a kind. The best. Legend."
It definitely had people missing Bennington, with one person tweeting: "Just watched ‪@linkinpark's carpool karaoke. Very emotional to watch but it's so nice to see how much fun Chester is having ‪#wemissyou."
And this reaction is too real: "Just watched Chester's carpool karaoke. Have you ever laugh-cried? Bursts of tears and hilarity then more tears. I just want him back!!"
Others found the video to be a sweet reminder: "the carpool karaoke made me laugh so hard it helped me remind chester as the funny and cheerful man he was."
Linkin Park plans to honor Bennington with a tribute concert at the Hollywood Bowl on Oct. 27, along with members of Korn, System of a Down, Blink-182, and Avenged Sevenfold, among others.
Check out the entire Gen Why series and other videos on Facebook and the Bustle app across Apple TV, Roku, and Amazon Fire TV.