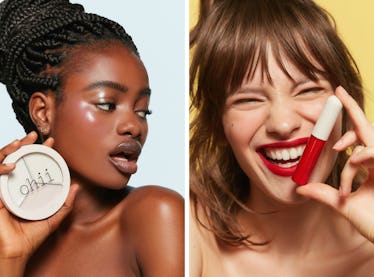 Urban Outfitters' New Beauty Line Is A Literal Dream & Everything Is Under $25
Millennial
Despite being a beauty writer, I'm not usually one to freak out over the announcement of a cool new product line. But Urban Outfitters' Ohii makeup line has got me legitimately stoked about the range of new products it'll be offering, proving the retailer has once again nailed its millennial focused marketing. The thing is, it's not just the marketing that's sucked me in. It's also the convenient packaging and the simplicity of the products themselves, because what matters the most to me in terms of ace beauty products is quality and straightforwardness. Ohhi boasts those both.
As described on Urban Outfitters' website, "Ohii fills in the blanks of every beauty routine with thoughtful products developed to work well with others. Readily accessible to all, both in stores and online, Ohii seeks to enhance natural beauty, not hide it." Along with locational accessibly the line also boasts financial accessibility—every single item within it is under $25, meaning pretty much everyone within its target market will actually be able to afford it. "This is feel-good beauty. Beauty for everyone. Beauty that's just fun," continues to description.
Launching on September 10, the collection includes 13 new products (29 if you include all of the different scents and shades) and will be available in-stores and online.
Some standout products are the Big Reveal Mask ($16), which paints on an opaque shimmery silver; the True Matte Lip ($16), which just might rival MAC's matte products; the 2-in-1 Clay Cream Cleanser Wash ($14), which sounds more like a triple threat if you ask me; and the Ohii 10-Shade Shadow Palettes (24), which feature a range of shimmery and matte shades alike.
In advance of the drop, Urban Outfitters wanted to prove to customers just how legitimately good the line is going to be. They asked "beauty experts" (it's unclear what qualifies someone such an expert but hey!) to try Ohii products for the first time and published a few of the reviews on their website.
Of the Wake Up Pen ($18), one expert wrote, "I've found so many uses for this pen! It's perfect for rehydrating my concealer when it starts creasing and I also love using it under my makeup as a primer. It gives me a real glow as a highlighter."
Of the Lip Jelly ($18), another expert wrote, "Loved this! It kept my lips super hydrated all day and had such a great, subtle fragrance."
And finally, of the Pure Stick Deodorant ($12) a third expert wrote, "This deodorant smells AMAZING, lasts almost all day and doesn't leave me with that sweaty/sticky feeling after a few hours. Not to mention, it's aluminum-free!"
If these reviews are any indication, it looks like there might be another hit beauty line on the horizon. Glossier has continued to do so well with Millennials because it understand the power of easily understandable products that work and look cute while doing it. It seems like Urban Outfitters is finally tapping into this knowledge with the launch of Ohii.