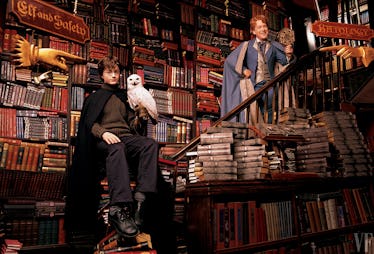 These Unreleased 'Harry Potter' Book Covers Will Give You All The Magical Feels
Warner Brothers
The Harry Potter books are not only an escape from our world to one full of magic and adventure, but also a collector's edition, and a joy to display. From editions that come inside a magical suitcase to the latest illustrated editions, Harry Potter cover art is as important sometimes as what's inside. Two years ago, the covers were redesigned when the series was released digitally, featuring Olly Moss-penned "Optical Illusion" covers for all seven novels. Now, Moss has gained permission to show us his unreleased Harry Potter book cover designs from the proposal that weren't used.
If you're asking "Who is Olly Moss, exactly?," let me explain. He's a British graphic artist, famous for his illustrations in Empire magazine as well as his work on movie posters, such as the Thor movies, and video games such as Resistance 3. For a certain generation, Moss was the best designer of T-shirts to be found on the Threadless website. (He put himself through university from their sales.) You can check out some of his more famous movie poster re-imaginings on his website here.
As for his Harry Potter digital covers, anyone who had bought them through audible in the last couple of years is probably familiar with them. Each image also contains a secondary reference to the plot of the novel in an otherwise seemingly innocuous cover.
But apparently, these weren't the only designs Moss submitted. He actually came in with four different design concepts to the meeting. He calls it a "brace" of ideas that he arrived with.
But, like with many artistic endeavors, when you submit ideas to a company, a lot of times there are rules about being able to reuse those ideas, or even make them public, until after a certain period of time has passed.
After all, just because those ideas didn't make the covers doesn't mean that the Potter machine wasn't going to use them in some other manner. For instance, one of those rejected ideas, it turns out, was the basis for the posters he released in conjunction with Pottermore last year.
It was only this month that permission was finally granted for him to release all the unused concepts, and he publicly linked the google drive containing them for the world to see.
The top left image, as you'll recognize, are the Hogwarts "Travel"-type posters that he released with Pottermore. Going clockwise, we then come to the "Optical Illusion" concept that became the book covers as we know them today. But what about the bottom two images?
The bottom right images are all silhouettes of Harry Potter, in the old school, 19th Century style. As Harry grows up, the portrait slowly ages, so that we see a boy slowly grow up into a young man over the course of seven covers. But being Moss, it's not just the silhouette.
Check out this detail that would have been the image inside "Harry's head" for Philosopher's Stone. It's a depiction of that first shopping trip to Diagon Alley. And if you look at it again, the sky above is also Harry's lightning bolt scar.
As for the fourth concept, Moss entitled it a set of "Heraldry" images. Each year would be represented by a single icon, in different colors for each year. Year One is The Owl, Year Two is The Snake, Year Three is The Stag, Year Four is The Dragon, etc.
And once again, though these are stylized images, each one still contains a hidden image that you only notice if you look at it a second time. For instance, the Owl's wings are also lightning bolts.
These images are beautiful, and would also make fantastic posters, should Pottermore choose to team up once again with Moss to put them out there for sale. Let's hope they do.