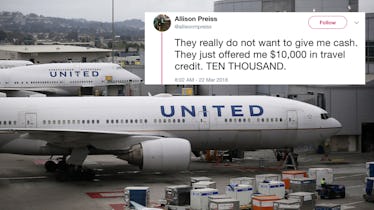 United Gave A Woman A $10,000 Voucher For Giving Up Her Seat & I'm So Jealous
Justin Sullivan/Getty Images News/Getty Images
How many times have you been to a party when someone starts talking to you about their travel horror stories? It happens all the time. Not to say screaming babies and long flight delays aren't annoying incidents, but they happen pretty often. Another all too common practice among airlines is overbooking flights. That's when the airline sells more tickets than seats available on a given flight. Usually it all works out because someone doesn't make the flight, but when everyone shows up, that's when the airlines start offering up flight vouchers for people to give up their seats. Recently, one passenger became the envy of travelers everywhere when United Airlines gave her a $10,000 voucher to give up her seat.
While the end result is a big payout (which I would happily accept any day), the beginning of the ordeal that led to it is probably not on your wishlist for your next vacation. On March 22, Allison Preiss was ready to depart Washington D.C. for her friend's bachelorette weekend in Texas, according to CNBC. Preiss was booked on the Thursday morning United Airlines flight from Washington Dulles to Austin, but there was a problem with one of the seats on the plane.
A broken seat on the plane meant that someone had to give up their place on the full flight (United confirmed to ABC News that the flight was oversold) or else United would kick off the lowest fare passenger, who happened to be Preiss, per her Twitter account of the incident.
Preiss didn't initially volunteer her seat because she was headed to the bachelorette party (I'd have done the same thing, TBH), but that apparently didn't matter to United Airlines. All that mattered was that Preiss was the lowest fare passenger, per her Twitter.
After Preiss shared on her Twitter account that she was kicked off the flight and was asked to sign a document that stated she "volunteered her seat," the silver lining began to shine through.
Preiss tweeted that United Airlines offered her $10,000 in travel credit. OK, now I would not be mad at being in Preiss' shoes.
It seems as though maybe Preiss would have preferred a cash refund, but it appears that United was not having that. Preiss tweeted out a photo of the $10,000 voucher, and she captioned it, "This is how badly United didn't want to give me cash."
While I still am very jealous of the dollar dollar (flight voucher) bills Preiss received from United Airlines for her trouble, I can totally understand why she was so frustrated and wanted a cash refund. She was headed to her friend's bachelorette weekend (which had probably been planned for a while), and then she was forced off of her flight because of a broken seat and the fact that she was the lowest fare passenger — that is so not the way you want to start a girls' weekend.
Since Preiss wound up being at the mercy of what United Airlines would offer her in return for giving up her seat on the flight, walking away with a $10,000 flight voucher is not too shabby. But wait, there's more! Preiss also tweeted that United Airlines gave her two $10 meal vouchers, with which she claimed she would "go INSANE at Pizza Hut." Allison, I get you, girl. Go ahead and treat yo' self.
In the end, Preiss must have made it on another flight, because as she told ABC News, "...it was the best flight delay ever." While I still wish I was also holding on to $10,000 worth of flight vouchers, it's good to know that things ended well for Preiss.