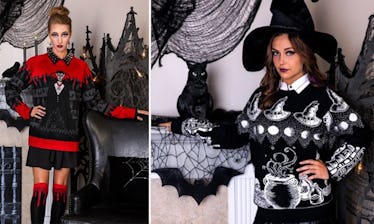 Ugly Halloween Sweaters Are Here & They're *Officially* The Comfiest Costume Of 2018
Halloween Costumes
My family is old school. We don't participate in anything too trendy or 'gramworthy, so I knew ugly Christmas sweaters were officially a thing when my uncle hosted a DIY sweater contest on Christmas Eve. The person with the tackiest red and green sweater (shoutout to Grandma) won a gift card. Mine was decorated with tinsel, battery-powered lights, puffy paint, and pom poms. Though I got really into the arts-and-crafts spirit, I was so thankful that this ugly sweater holiday came only once per year. But now, there's ugly Halloween sweaters and actually, these are much more my style.
As far as the holidays go, I love them all, but in very different ways. Christmas is the one where I go all out with the gift wrapping (I love decorating gifts with things like candy canes, pine clippings, and teddy bears in lieu of traditional ribbon), my dinner dishes (last year I decorated a cake with chocolate molds of real maple leaves), and my outfit. I break out my sparkly jewelry, shop for "Stepford-Wife" dresses, and usually top off my look with a holiday-appropriate headband or hat. So, now you might have an understanding as to why I just can't get on board with the ugly Christmas sweater — it's just not my holiday aesthetic.
But Halloween is a totally different story — for starters, I don't just celebrate it on a single day, like I do for Christmas, I celebrate Halloween all October long. It starts with the scary movies and the pumpkin-spice treats, and before I know it, I'm scrambling to find a new costume for yet another Halloween party. And unlike Christmas, I don't care about looking classic or pretty.
So, I finally found my scary-movie-watching, pumpkin-patch-prancing uniform for this October: The ugly Halloween sweater. Similar to those of the red and green variety, these knitted pullovers are trading the holiday-friendly Christmas tree, Santa and snowmen motifs for spider webs, jack-o-lanterns, and skulls. Whether you're the pumpkin-print type or you prefer a dark sweater with witchy vibes, there's an ugly Halloween sweater for you, available through Halloween Costumes online. The retailer is offering a range of knits for men and women, in sizes XS-3X.
The best part: you can buy your new favorite fall sweater beginning at $40 each.
Adult Witch Spellcraft And Curious Ugly Halloween Sweater, $40, Halloween Costumes
Adult Classic Horror Monsters Fair Isle Ugly Halloween Sweater, $45, Halloween Costumes
Adult Pumpkin Patch Ugly Halloween Sweater, $40, Halloween Costumes
Ripped Open Skeleton Adult Ugly Halloween Sweater, $40, Halloween Costumes
Black And White Skeleton Adult Ugly Halloween Sweater, $40, Halloween Costumes
Adult Dracula Vampire Ugly Halloween Sweater, $40, Halloween Costumes
Day Of The Dead Dancing Skeletons Ugly Halloween Adult Sweater, $40, Halloween Costumes
Whether you were looking for something to wear to that haunted hayride you bought tickets for or you're not much of the costume type, but you still like to get in the spirit, here are all the ugly Halloween sweaters you'll want to wear all October long.
This article was originally published on