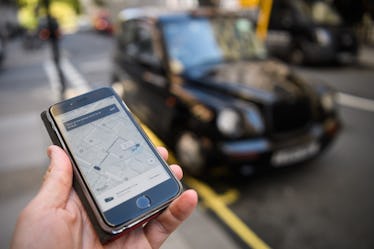 Uber Is Adding A Bunch Of New Safety Features & They're Seriously Genius
Leon Neal/Getty Images News/Getty Images
Let's be real, driving is the worst. I, for one, would much rather ditch the driver's seat in place of a backseat with some air conditioning, especially during the summer. Lucky for me, Uber's new safety features guarantee that I'll be enjoying my hot summer days without worrying where my next ride will be.
Uber may have been birthed in 2009, but nearly 10 years later the developments just keep coming. On April 12, Uber Technologies' CEO Dara Khosrowshahi announced on the company's website that the app would be introducing some new safety features.
So what exactly are these features? Well according to Khosrowshahi, the new changes are intended to "double down" on the app's safety and "help shape its next chapter." To do this, Uber is introducing a few new safety features including direct access to 911, connecting riders to outside contacts more easily, and sharing some helpful information about safety. Plus, the company plans to tighten up its background policy to make sure every driver and vehicle checks out. According to the company, the worldwide car sharing service plans to unveil these new features to its riders come summer.
I have to say, this is perfect considering all the Ubers I plan on hailing to avoid driving in heat-drenched traffic. With these features, you truly don't have any excuse not to call an Uber. Not sold yet? Here's a full rundown of the upcoming features.