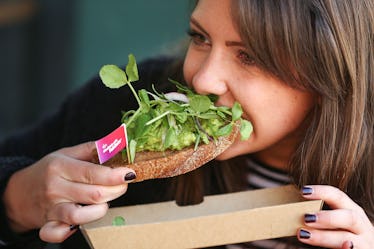 Uber Eats Just Summed Up The Trendiest Foods Of 2018, Which Are Really No Surprise
Brendon Thorne/Getty Images Entertainment/Getty Images
My favorite part of December is always the year-end reviews, when companies gather customer data from the year and use it to highlight current trends and habits while making predictions for the future. This year, Uber Eats has analyzed user data to find the trendiest foods of 2018. Can you guess what the top two trendiest foods of the year were? Uber Eats' 2018 year-in-review basically confirms millennials are still obsessed with avocado toast.
At the top of the "20 trendiest foods of 2018" list are "toast" at No. 1 one and "avocado" at No. 2, very nearly confirming that the good people using Uber Eats this year were busy fixing themselves the signature millennial sandwich. Number three on the list was "goth food" — food that's been dyed black for aesthetic purposes and does really well on Instagram — and number four was cucumber, which feels like the antithesis of "goth food." There were other predictable foods on the list like wings, soup, and tacos, all staples of a good millennial's diet, as well as some surprises like poke, acai, and seaweed.
Uber Eats also analyzed some rising food trends for 2019, like fermented food and milk alternatives, with pea milk rising to the top.
According to the Uber Newsroom, some individual foods and ingredients that might do well in 2019 include: seitan, pumpkin, faro, tofu, turmeric, chia, and bee pollen. Some food categories that might get even more popular will be: keto, vegan, smoothie bowls, and plant-based food. Alternatively, foods that might lose their luster next year include dragonfruit, millennial pink foods, and sadly, the avocado as well. Maybe if we give up the creamy green fruit, we'll finally be able to afford houses.
In an email to Elite Daily, Uber also analyzed some other food trends around the country. For example, Seattle was by far the most caffeinated city in the country and was where Uber saw the most coffee orders on Uber Eats. The biggest food spenders included someone in California who apparently spent $1,546 on Chinese pastries and someone else in Australia who dished out almost $1,000 on Papa John's. Top destinations for Uber rides in Louisiana, Arkansas, and Idaho were all food establishments.
Uber also provided some non-food trends from 2018, revealing that some of the most popular travel destinations included the Empire State Building, Freedom Tower, CN Tower, and Disneyland. The three countries where Uber riders requested the most rides were the U.S., Brazil, and India, but Uber notes that "people around the world didn't stick to traditional rides," and that they saw "more than 4.1 million miles ridden on JUMP bikes and scooters." And the city with the most rides after 2 a.m.? You guessed it, New York City.
It's always fun to look back on the year and analyze what everyone around you was up to. But just because Uber thinks avocado toast reached its peak in 2018 doesn't mean I'm going to stop making my delicious, open-faced millennial sandwiches anytime soon. Maybe my fellow millennials and I can join forces to keep "toast" and "avocado" at the top in 2019 as well.