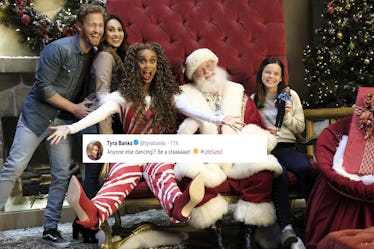 Tyra Banks Live-Tweeted All Of 'Life-Size 2,' So Get Ready For Even More Eve
Guy D'Alema
It's safe to say that no one was more excited for Life-Size 2 than its leading lady Tyra Banks was. Before the long-awaited sequel debuted on Freeform on Dec. 2, Banks hyped up her fans for the return of the Eve doll and left a clear mark on the story thanks to her roles as actress and producer. In case you were too busy waiting for a Lindsay Lohan cameo (maybe in a third movie?), Tyra Banks' Life-Size 2 tweets were another highlight of the movie's premiere. I'm definitely in the mood for more Eve, and a scroll through Banks' festive feed may just convince me to rewatch Life-Size 2 ASAP.
Following the 2000 ABC premiere of Life-Size, Banks went on to helm years of America's Next Top Model while her young co-star Lindsay Lohan grew up and experienced several professional and personal hits and misses. Lohan reportedly couldn't appear in Life-Size 2 because of scheduling conflicts with her upcoming MTV show, but the new film recreated the same magic of a lost girl inadvertently bringing her Eve doll to life. Francia Raisa played the token human this time, appearing as the daughter of the toy company CEO who created Eve.
The prospect of a Life-Size sequel first emerged in 2015, but even when those early plans faltered, Banks kept fans updated on the movie-making progress via her social media. Our Christmas wish wasn't the only thing that came true upon the debut of Life-Size 2 — it's clear by Banks' Twitter that one of her own longtime dreams finally became reality.
While her tweet from the start of premiere night reads a bit like a motivational talk from an America's Next Top Model judging, Banks also embraced her goofy side throughout the airing. From asking followers for selfies from their watch parties to poking fun at some of Eve's lines, Banks created a kind, interactive space that I wish Twitter could emulate 24/7.
While Banks' co-star Raisa is known for her Secret Life of the American Teenager role and donating a kidney to BFF Selena Gomez, the actors playing her friends and local kids aren't as recognizable. Proving she values the others who made Life-Size 2 happen, Banks also sent out a shoutout to Raisa and the actors playing her friends and young neighbor. Seeing her use the word "fierce" away from ANTM definitely doesn't get old.
As seen in Eve's "Be A Star" remix, Life-Size 2 didn't really bother with separating circumstances of Banks' life from Eve's. While watching the premiere, Banks even tweeted in character to promote the movie trending on Twitter. I guess social media has hit Sunnyvale.
Given Banks' list of even more Eve doll attributes, we can rest assured that the toy is in good hands after its discontinuation scare. Seeing how long it took a sequel to materialize, we'll have to wait and see if a third movie is possible. If you ask Banks, staying optimistic about Life-Size 3 is worth it.
If our chances of Lohan's Casey and Raisa's Grace meeting in a third movie are slim, here's to Banks reminding us that even as grownups, we can still shine bright, shine far, and be stars.