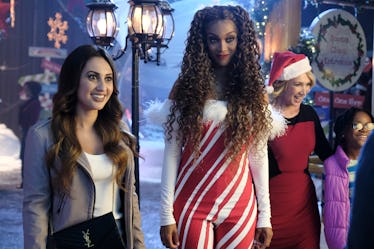 'Life-Size 2' Has A 'Be A Star' Remix & Yes, Eve Raps In It
Guy D'Alema
Even if your memory of Life-Size is a little blurry, the catchy song accompanying scenes in Tyra Banks and Lindsay Lohan's beloved 2000 movie is probably still rolling through another refrain in your head. "Be A Star" was the Eve doll's jingle that Banks' living Eve never hesitated to perform, and in the movie's new Freeform sequel, the song undergoes a makeover perfect for 2018. The "Be A Star" remix lyrics from Life-Size 2 are the surprise holiday gift you definitely didn't realize you needed, and we just hope Lindsay Lohan is proud.
This post contains spoilers for Life-Size 2. Lohan didn't reprise her Life-Size role in the new holiday flick, but we'll let her absence slide since Life-Size 2's Eve was technically a different doll who didn't know her character Casey Stuart. The sequel may have introduced a new version of Eve, but a heartwarming combination of spunk and singing talent must be universal for all models. At the mall's winter wonderland setup, Eve performed the classic "Be A Star" in all of its new millenia glory. As the daughter of the toy company CEO who created the Eve doll, Grace (Francia Raisa) was familiar with the tune, but she wrote it off as being a little dated. As much as we all love the song's Spice Girls-esque choreography, she definitely had a point.
When Grace, Eve, and their friends later decided to revamp the doll design to fit a modern audience, the toy's trademark song went through a reconstruction too. In an eleventh hour attempt to save the doll from being discontinued, Eve then performed the "Be A Star" remix, listed on Spotify as "Be A Star 2," before debuting new personas for the toy line. In case you've forgotten to shine bright and shine far, the remix will not only remind you, but also emphasize that your flaws are exactly what make you a star.
Although it kicked off with the original jingle's opening, Eve then made Hip-Hop Eve proud and tried her hand at rapping. From including a subtle nod to America's Next Top Model to dismissing the idea of perfection, "Be A Star 2" clearly has Banks' influence written all over it. Some of the lyrics say:
Be in charge, fix that hair / Claim your name, fight those fights / Eve be with you day and night / Buy me then be me / Then start being the stuff that's inside you / You cryin', start breathin' / Perfect is boring / I'm sleepy, we snorin' / Let's win this game / Baby, it's time to start scorin'
Of course, Eve didn't turn her song upside down just for a creative challenge. In a musical interlude, kids introduced six new Eve models: Woke Eve, Eve-quality, Love is Love Eve, CEO EVE, Curvalicious Eve, and, in a tribute to Casey, Quarterback Eve. The remix's refrain also threw things back to the original, telling an audience of Marathon Toy officials to be stars. After this reminder of the old Eve, a verse dedicated to what the doll has learned in 2018 was only right, as Eve rapped:
Woke is woke, love is love / We for real, that's what's up / Thick and thin, short and tall / Dimpled booty, we love it all / Peek my crew, heads are spinning, old is new, Eve is winning / Cruisin' on the ocean in my yacht-y yacht-y, all the boys be lovin' on my bikini body/ The C to the E to O / E to the V to E to the woah-woah / Special friend / Yeah we contour, highlight, blend and blend
It may not hit the top of the charts, but the "Be A Star" remix is the bonus reboot Banks herself seems to have wrapped for our Christmases. Here's to having a valid excuse to break into the song at holiday parties this year.