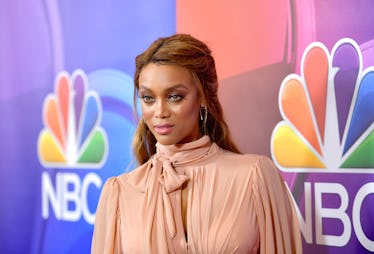 Tyra Banks' Dramatic "Be A Star" Reading Is The Only Thing You Need To See Today
Matt Winkelmeyer/Getty Images Entertainment/Getty Images
I hope I'm not the only one who loves watching old-school America's Next Top Model reruns (thank you, Hulu!). If you don't understand the appeal of watching Tyra Banks' hairstyle change drastically from season to season, I may judge you, but we can be friends again if you happen to love Banks in the 2000 TV movie Life-Size. Working opposite a young and adorable Lindsay Lohan, the model's role as a doll who comes to life is now seen as a classic. We may see the long-awaited Life-Size sequel soon, but for now, Tyra Banks' dramatic "Be A Star" reading will definitely make your day.
My inner ANTM fan loves when Tyra takes it from zero to 100 instantaneously, and her Oscar-worthy reading of Eve Doll's hit single was just that. While Banks channels the vibes of her serious ANTM elimination talks at the beginning of the E! News video, she lets herself loose by the end, reminding us to be stars with a cartoon-like voice and animated hand gestures. The clip also includes snippets of Eve in the movie, but Banks' goal doesn't seem to be a recreation of her old character. What with this serious tone, all she needs is a slideshow of rainbows and butterflies to accompany her reading and then she'd have inspirational YouTube gold.
Oh, Tyra. Never lose that spark that makes you shine bright.
After experiencing the mess that was Lindsay Lohan's post-Mean Girls career, nostalgic fans have wanted a continuation of Lohan and Banks' gem of a movie for quite some time. Although Disney Channel first shared news of developing a Life-Size sequel in 2012, nothing really came to fruition, and we had to rely on Banks reassuring us that, yes, this movie would actually happen someday. At least we never had to doubt Banks returning to play Eve.
According to Deadline, the fact that Life-Size's original fans are now in their 20s and 30s inspired the decision to move the project to Freeform. Does this mean we get to see Eve try out Freeform-appropriate things like online dating?
In April 2017, it was announced that Life-Size 2 would finally have its Freeform premiere in December 2018, joining the channel's beloved 25 Days of Christmas lineup. This April, Banks even confirmed that Lohan will reprise her role as Casey Stuart in the sequel, saying on Steve Harvey's talk show:
Lindsay Lohan will be in Life-Size 2, yes! Yes, I really, really want her to. We're talking about it right now and she has got to come back.
It's official — Tyra Banks is a goddess who convinced Lindsay Lohan to come back to a Disney-owned channel. In addition to gifting '90s kids with the greatest comeback of their lives, Banks will also executive produce Life-Size 2. A statement about the upcoming movie reads:
Everyone's favorite doll Eve has grown up. This time, she's magically awoken to help a young woman learn to live and love again, and along the way, Eve herself will experience the ups and downs of real life in a fun, edgy, modern Christmas movie.
I wouldn't be surprised if we just see Lohan briefly pop up at Eve's glitzy Christmas party in the film's ending moments, but watching Eve interact with tech-savvy millennials ought to be entertaining. And of course, no sequel would be complete without a throwback to Eve's performance of "Be A Star."
This works as a Christmas jam, right?
Until that holiday remix of "Be A Star" hits iTunes, it's time to incorporate Banks' dramatic reading into my morning meditation. If she won't give me a fiercely real talk after cutting me from America's Next Top Model, I'll take my Tyra-fied words of wisdom where I can.