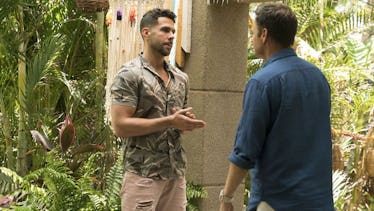 Twitter Went Off On Chris R. After His Convo With Tia On 'Bachelor In Paradise'
On Bachelor in Paradise, Tia Booth confronted Chris Randone for kissing Krystal Nielson. Prior to the kiss, Chris told Tia that he was "all in" for her, and that he'd "fight for her." But actions speak louder than words, and Tia pointed out that Chris kissing Krystal is contrary to what he actually said. When Tia addressed this with him, he initially downplayed his kiss with Krystal. But when Krystal joined the conversation, and Tia said she was done with Chris, he acted like that's what he wanted all along. Twitter's reaction to Chris and Tia's conversation shows that no one is here for Chris and his petty mind games.
What Chris exhibited was a textbook case of gaslighting: He attempted to convince Tia that facts she knew were untrue. Chris tried to manipulate Tia into thinking he still put her first, even though the second he saw her having a simple conversation with Colton, he went on to the next woman who'd have him. And before Krystal arrived, he was still trying to convince Tia he wanted to be with her. But the second the blonde "villain" joined the conversation, Chris doubled-down on his defense, and tried to convince both Tia and Krystal that he was "more than fine" being done with Tia.
Here are some of the best Twitter reactions to Chris flip-flopping between Tia and Krystal:
After Chris' confusing back-and-forth about which girl he was, in fact, "all in for" during their three-way conversation, it seemed like he was interested in pursuing Krystal. She was newly "available" after previously telling Kenny that she wanted to just be friends. But then, after the chat with Chris and Tia, Krystal had a heart-to-heart with Bibiana, in which she shared that she doesn't know where Chris is at, feelings-wise.
Since Krystal and Chris have yet to go on an actual date, those feelings could, of course, develop down the line. It seems like their "connection" at this point is based 99 percent on physical attraction, and maybe one percent on the fact that they were both portrayed as "villains" on their respective seasons.
Later on in the evening, Chris told Krystal that she was "down-to-earth" and a "really cool person" — totally different than how she seemed on Arie's season. Yes, his make-out session with her seemed to really clarify who she is as a person. Moving on.
In an in-the-moment interview, after knowing her for a few days, Chris said he sees a future with Krystal. And she admitted that she feels "so hopeful" after Chris shared his feelings with her. The two shared a kiss after their talk.
Unfortunately, Chris seems to just be saying whatever is most convenient for him in a given moment to get a kiss or rose. Hopefully, Krystal runs away from this gaslighting contestant ASAP and can find another guy to share her glitter with in Paradise. But for now, I guess we'll have to wait and see what happens for these two "villains" in Mexico.