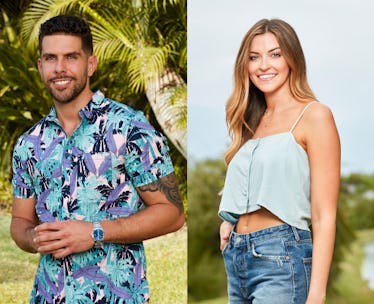 Tia & Chris Had An Intense Conversation On 'Paradise' That Could Change Everything
ABC
Just when we thought Tia Booth basically starring in her own Bachelorette season on Bachelor in Paradise was over, the Arkansas native is back for more drama. After proclaiming she was finally over Colton Underwood and committed to her relationship with Chris Randone, Tia ran into trouble when Colton told her that Chris had kissed Krystal Nielson. Last week's Paradise episode teased a major confrontation between the scorned couple, and Tia and Chris's conversation on Bachelor in Paradise could change the entire mood of the season. Don't discount the Tia-and-Colton show just yet, because we may be in for much more of it.
As audiences uncomfortably sat through Chris essentially comparing Paradise women to different meal courses (eek), Colton hinted to Tia that Chris wasn't as committed to her as she initially thought. In a true Prince Charming move, Colton said he knew he didn't have to protect Tia, but he didn't want someone to hurt her. Welp, looks like somebody is quickly getting back in good favor on the beach again.
After learning about his kiss with Krystal, Tia immediately hunted down Chris, ready to call him out on his claims that he wanted to be her guy. Stealing him away from experimenting in goose calls with Jordan, Tia brought up the kiss, wondering why he said he'd "fight" for her if he kissed Krystal immediately after.
Chris promised that his feelings toward Tia hadn't changed, but Tia wasn't buying it. In the most enjoyable footage of her this season, she kept stating the obvious so much that it became comical — Chris kissed Krystal, and after he made such a commitment to Tia, that just isn't right.
Of course, Krystal came along to crash the meeting, literally forming a triangle with Chris and Tia. While Krystal sipped at her margarita, Chris essentially called off his fling with Tia, and even when Tia removed herself from "the triangle," as she called it, Chris jumped to prove he had done so first. No thank you, Chris, please go away.
Then, totally making up for all of her whining about Colton this season, Tia became relatable AF when she left in search of tequila. You go, girl!
With Tia's ties to Chris seemingly cut, her proclamation that things are through with Colton seems a little less definite. Colton might've just wanted to be a nice guy by warning Tia about Chris's intentions, but did y'all see the way Tia picked some fluff off Colton as they sat down to talk last week? The gesture didn't exactly scream of a platonic relationship, and now that Chris has betrayed Tia's trust, Tia's old feelings for the virgin NFL player are bound to return.
These two are basically the Ross and Rachel of Paradise, and after her blow-up with Chris, Tia admitted that her recent interactions with Colton started making her "tingly" again. This girl needs some ice cream and a stack of Cosmo magazines stat before her head explodes from this boy drama.
Chris and Tia's relationship may have been short-lived, but even the most inconsequential flings cause some trouble in Paradise. Just when we thought tuning in for Colton and Tia's angst-ridden connection was done, they pulled us back in with tears, tequila, and that incomprehensible tattoo on the back of Tia's arm. After seeing Colton reject Jacqueline for a date to protect Tia's feelings, it's clear that these two are a Nicholas Sparks movie in the making. No one gets cancer or loses their memory this season, right?
Bachelor in Paradise returns on Tuesday, Aug. 21, at 8 p.m. ET on ABC.