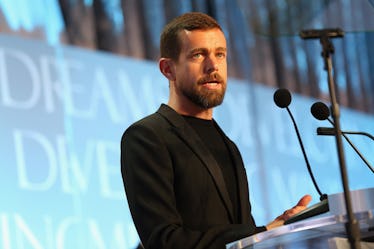 Twitter Verified The Charlotte White Supremacist Rally Leader & People Are Pissed
Teresa Kroeger/Getty Images Entertainment/Getty Images
On Tuesday, Nov. 7, the organizer of Unite the Right who organized the white supremacist rally in Charlottesville starting on Aug. 11, Jason Kessler, was verified on Twitter and people are (rightfully) pissed. The irony of the situation is that CEO of Twitter, Jack Dorsey, re-enforced Twitter's "new rules" about hate groups less than a month ago. Dorsey tweeted on Oct. 13: "New rules around: unwanted sexual advances, non-consensual nudity, hate symbols, violent groups, and tweets that glorifies violence."
Once Kessler's account had been verified, he tweeted on Tuesday, Nov. 7, "Looks like I FINALLY got verified by Twitter. I must be the only working class white advocate with that distinction."
What has angered so many is that Kessler, the white supremacist leader, is now equated with the same "badge of public interest" as other public figures. While many think the blue checkmark is some sort of an endorsement to the public figure, Twitter has claimed the symbol only authenticates the account and "does not imply endorsement."
Because of this pushback, Twitter announced that they will be pausing all general verifications until the resolve the confusion, they wrote on Thursday, Nov. 9. "Verification was meant to authenticate identity & voice but it is interpreted as an endorsement or an indicator of importance. We recognize that we have created this confusion and need to resolve it. We have paused all general verifications while we work and will report back soon," Twitter tweeted.
Kessler's verified status comes just months after he deleted his account in August, after sending out a hateful tweet about Heather Heyer, the woman who died after being run over by a car at the white supremacist rally in Charlottesville, according to The Daily Beast. In his tweet, Kessler called Heyer a "fat, disgusting Communist," referring to her death as "payback time" because "Communists had killed 94 million."
The day after, Kessler deleted the tweet and sent out a follow-up apology tweet that blamed a combination of drugs and alcohol for what he said. The tweet read, "I repudiate the heinous tweet that was sent from my account last night. I've been under a crushing amount of stress & death threats,I'm taking Ambien, Xanax and I had been drinking last night. I sometimes wake up having done strange things I can't remember." His account was deleted shortly after.
Dorsey's "new rules" about sexual harassment and hate groups came about after his social media company came under fire in October. People were outraged when Twitter suspended Rose McGowan's account, an actress who played a central role in starting the conversation about sexual allegations against Hollywood producer Harvey Weinstein. McGowan had been one of the first women to come forward, prompting dozens of other women to tell their sexual harassment stories. Twitter claimed to suspend her account because of a tweet that contained a personal phone number. Regardless of the reason, women accused Twitter of suspending her account because of her sexual harassment claims and started the hashtag #WomenBoycottTwitter, prompting Dorsey to release the previous statement about sexual harassment.
While Twitter's blue verified symbol simply recognizes the authenticity of an account, it's hard for people to separate endorsement and recognition when it comes to verifying a leader of white supremacists. Especially considering Twitter just announced their intolerance for hate groups, something that is Kessler's very work. The social media company is in a tense situation, because regulating Twitter based on moral biases and filtering through the app might mean changing the very purpose of Twitter. Do they exist just to provide a free speech platform, or will they say, "Stop! Enough is enough," when it comes to hate groups and white supremacy? What could that mean for the future of social media?