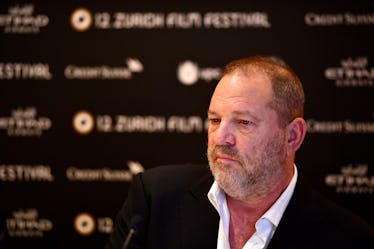 Harvey Weinstein's Crazy Short Rehab Program Has Everyone Making The Same Joke
Alexander Koerner/Getty Images Entertainment/Getty Images
The life cycle of the Harvey Weinstein allegations seems to be moving fast. It's been barely three weeks since the first allegations against the disgraced film producer came out, and he's already said he was "remorseful" for his actions, been dismissed from the Academy, and been through treatment program for sex addiction. Except, when it comes to getting treatment for a supposed serious problem, maybe speed isn't the most beneficial thing? That's why a lot of people on social media are calling out his one-week treatment, with jokes about Harvey Weinstein's short rehab taking over Twitter.
In the past few weeks, more than 50 women have accused Harvey Weinstein of sexual misconduct ranging from sexual harassment to full-on rape. His accusers include prominent names, such as Gwyneth Paltrow, Ashley Judd, Angelina Jolie, and Rose McGowan, many of whom described a similar pattern of alleged misconduct. Weinstein, in a statement after the initial reports of the allegations, apologized for misbehavior, stating, "I appreciate the way I've behaved with colleagues in the past has caused a lot of pain, and I sincerely apologize for it. Though I'm trying to do better, I know I have a long way to go."
In a subsequent statement, Weinstein denied any accusations of assault or rape via a representative, saying that all the encounters were consensual. The statement read in part,
Any allegations of non-consensual sex are unequivocally denied by Mr. Weinstein. Mr. Weinstein has further confirmed that there were never any acts of retaliation against any women for refusing his advances. Mr. Weinstein obviously can't speak to anonymous allegations, but with respect to any women who have made allegations on the record, Mr. Weinstein believes that all of these relationships were consensual.
As he promised in his initial statement, Weinstein checked into a rehab center in Arizona for treatment for sex addiction last week. The producer left Los Angeles late on Oct. 11 on a private plane, according to People. And on Oct. 21, Weinstein's psychologist told TMZ (apparently with Weinstein's permission) that the producer would be leaving the facility after completing a one-week program focusing on "dealing with his anger, his attitude toward others, boundary work and the beginnings of work on empathy."
Well, color me surprised. One week seems an awfully short time to have dealt with any number of demons and bad habits.
In fact, it seems an awfully short time for any number of things — as Twitter was happy to list.
Some people got real about it.
Of course, none of this is helped by the reports that Weinstein had a hard time taking his "rehabilitation" seriously.
Page Six reported on Oct. 19 that Weinstein was treating his treatment as a joke, arriving late to therapy sessions, taking calls on his (prohibited) cell phone, and claiming that the accusations against him were part of a conspiracy theory. An anonymous source even told Page Six that Weinstein fell asleep in a group session:
He was only woken up by the ringing of his smuggled mobile phone [which is banned at the facility] . . . Harvey jolted awake, jumped up, immediately took the call and then ran out of the room.
Weinstein's psychologist denied those reports to TMZ, saying that Weinstein "was able to focus on his therapy" despite distractions, and that "he showed up for all the meetings and was fully engaged."
A rep for Weinstein later told TMZ that the producer would be staying on in Arizona to continue working with doctors, although his outpatient treatment program had ended.
A good idea, perhaps. After all, if it takes more than a week to stop a bad habit like biting your nails, it's probably going to take a bit longer to completely rehaul your life and the way you interact with others. But that's just a guess.