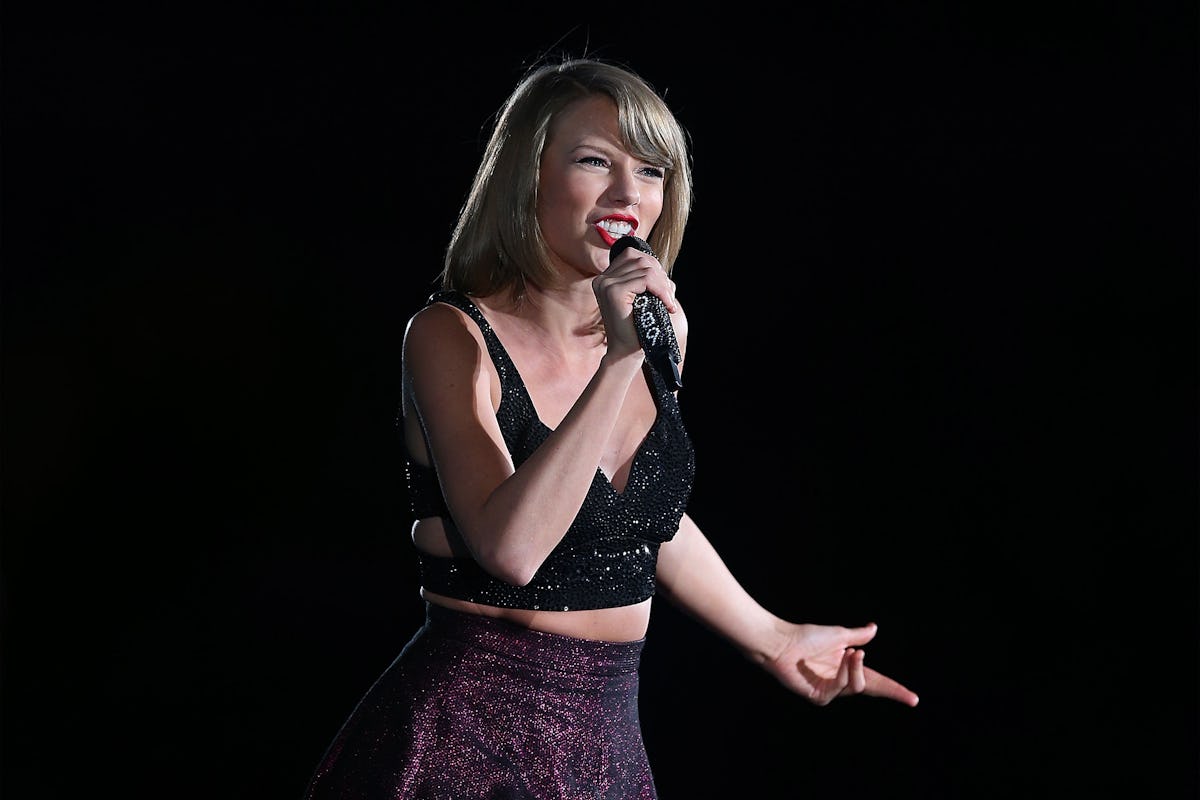 This Hilarious Taylor Swift Meme Is Actually Inspirational AF, & We're Here For It
Graham Denholm/Getty Images Entertainment/Getty Images
Since Taylor Swift dropped her highly anticipated album Reputation, she's seriously made herself heard in the music world. The album continues to top the Billboard Top 200 chart as the number one album and it's been extremely well received by fans. But while T-Swift's been riding high on this wave of success, that wave has also been met with a substantial amount of criticism as well — namely on social media. So when one Twitter user decided to declare that the singer is the "baddest," the tweet was definitely put on blast. The tweets and memes about who's badder than Taylor Swift are seriously hilarious, but they're also so incredibly inspirational at the same time.
Social media is somewhat of a mystery, in the sense that we never really know what will go viral or have a set formula for creating viral content. And this mystery perpetuated itself the first weekend in December in the form of a tweet asking followers to name a "b*tch badder" than Taylor Swift. The tweet was posted all the way back on Nov. 10, on the night of Swift's album drop. But for some reason it's gained traction in December, and people have a lot to say on who's "badder" than the singer.
The tweet was posted innocently enough, with one fan professing their admiration for Swift when her new album was released:
This tweet is nothing out of the ordinary. It's fine to love the artists you love and talk about them as much as you want on Twitter and other social media platforms. But what came from other users after this tweet was posted, just under a month later, was an attempt to "de-throne" (so to speak) Swift as the "baddest b*tch" who's ever lived.
The tweet had users clapping back with a slew of challengers who named women who are "badder" than Swift. But for the most part, rather than mentioning other divas in the music industry, the women mentioned have made some serious sacrifices in their lives, making them "badder b*tches" than Swift.
And to be honest, I definitely don't disagree.
There's a woman who defended freedom during the nightmare that was a Nazi-occupied Eastern Europe:
A grandmother who needed to step up and take care of her family at a very young age:
A woman who survived Auschwitz and made a name for herself:
A girl standing up against racism in Britain...
...and in the United States as well:
And a lot of people took the time to talk up their moms and grandmas.
Seriously. So. Many. Amazing. Women.
People were into it.
There were, of course, some Twitter users who made comments of a malicious nature, taking jabs at Swift — who's not necessarily had the best public reputation. Swift's been known to attract drama wherever she goes (i.e. the infamous Kanye West outburst at the 2009 VMAs, her feuds with both Kimye, as well as Katy Perry — the list goes on and on) and reflects that in much of her music, which doesn't always sit well with people. So when one fan decides to laud her on their public social media account, it's an absolute guarantee that there are gonna be other users who fire back — even if it is almost a month after the original post.
Of course there's no crime in loving Taylor Swift and her music, and expressing that via social media channels. But what this "backlash" against the original tweet did was provide a platform for users to discuss other women who have seriously paved the way in history and made a name for themselves. It's seriously so inspiring to have people naming women throughout history who might have been forgotten otherwise.
So while Taylor Swift is an inspiration for young girls in her own right, it's amazing to know that other, lesser-known women are not falling by the wayside. This just further proves that you don't have to be a pop diva to make a difference in the world.