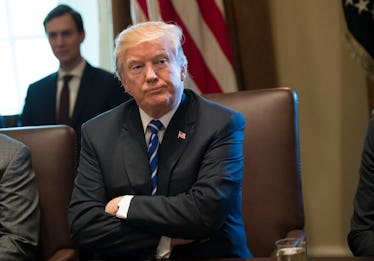 Trump Supporters Are Confusing LaVar Ball With The 'Reading Rainbow' Host, & Oh No
Pool/Getty Images News/Getty Images
The holidays are upon us: a time to take stock of the things that really matter. A time to realize that our petty grievances are just that — petty — and that life is better when you give without expectation. Or, if you're President Donald Trump, it's a time to tweet that you should have let a U.S. citizen stay in Chinese jail because his father didn't thank you personally. That's right: the president of the United States has started a feud with LaVar Ball, father of a college basketball player who was recently released from jail, in part due to Trump's intervention. And now Trump supporters are tweeting at LeVar Burton, the Reading Rainbow host, thinking he's Ball. Ugh.
Earlier this month, Trump started a new Twitter feud with Ball, a businessman, after he refused to thank Trump for his supposed role in helping three UCLA basketball players — including Ball's son, LiAngelo Ball — avoid jail time in China for alleged shoplifting. In turn, Trump went ballistic, taking to Twitter to name-call Ball and even going so far as to say that maybe he should have left them in jail. And as Trump mentioned Ball by name on Twitter several times this week — including an early morning tweetstorm on Nov. 22 — his supporters have decided to express their distaste directly to the basketball mogul.
The problem? They're confusing businessman LaVar Ball with beloved actor LeVar Burton, of Reading Rainbow fame, and harassing him online — including tweeting at Burton that he should be ashamed for Ball's behavior.
There's this:
And this:
Aaaaand this:
Oh, and a bunch more tweets calling Burton a has-been, which is false. And rude.
I know, I know. LeVar and LaVar, practically interchangeable, right? But noooot really.
First, LeVar Burton is wildly famous. You might recognize him from gems such as Reading Rainbow or Star Trek: The Next Generation. (But especially Reading Rainbow.) If you whisper "butterflies in the sky," to a Millennial, we instantly picture his face.
I mean, come on. How do you not know who LeVar Burton is?
If Reading Rainbow wasn't your thing (wrong) there's also Star Trek: The Next Generation, where he starred as Lieutenant Geordi La Forge from 1987-1994. C'mon guys, Geordi La Forge!
No?
OK, well, even if you don't recognize Burton, the two men look nothing alike:
Jayne Kamin-Oncea/Getty Images Sport/Getty Images
Kevork Djansezian/Getty Images News/Getty Images
Like zero percent alike.
Well, at any rate, the mix-up is embarrassing. Like, anyone who has been harassing Burton should be embarrassed. (If you're participating in targeted harassment you should be embarrassed anyways, but especially if you're not even doing it right.)
The mix-up has led some people to point to the racist undertones of mixing up two black men who look nothing alike. But even better, it has also given Burton the chance to make jokes and retweet funny articles about the mix-up.
This just proves that Burton has a big heart, because if I were the victim of targeted harassment — especially if I hadn't even done the thing I was being harassed for — I would go postal. But that's why I'm not a totally chill Starfleet commander, and he is.
And, hey, silver linings: this has given people the opportunity to tweet about how awesome Reading Rainbow is again.
Reaching for a positive in this story — in which the leader of a hugely powerful country threatens and name-calls an individual — is, to say the least, a challenge. To be frank, the president probably shouldn't be targeting individuals for making him angry, especially when presidents have been intervening diplomatically on behalf of American citizens for ages. Seems, you know, not in the best taste. But as Burton taught me, if you can dream it, you can do it. So let's keep... laughing...
Right, guys? Guys?