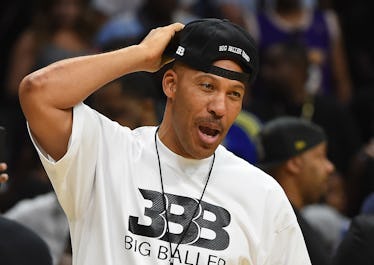 This Is What's Happening Between Donald Trump & Basketball Dad LaVar Ball
Jayne Kamin-Oncea/Getty Images Sport/Getty Images
On Monday night, Nov. 20, LaVar Ball's nationally televised interview about President Donald Trump's demands for gratitude went just as people who know Ball would've expected: ridiculously. During the interview, the 49-year-old Ball often provided circular answers to CNN anchor Chris Cuomo, but ultimately resisted giving Trump thanks for the Chinese government's pardon of his son LiAngelo Ball and two other UCLA basketball players. At one point during LaVar Ball's response to Trump — which is essentially what the interview had been billed as — the father seemed to chastise Trump for even asking for thanks.
LiAngelo Ball, Cody Riley, and Jalen Hill were arrested and held in China on suspicion of shoplifting. This was happening while the president happened to be in China, and he reportedly intervened to help get them out of jail. They returned to the United States on Tuesday, Nov. 14, and were allowed to return to campus without imprisonment. The CNN interview with LaVar Ball came the day after Trump said he "should've left" LiAngelo Ball in jail, with the president taking offense that Ball did not give the White House thanks. A day earlier, Ball, the polarizing father of three popular basketball players, responded "Who?" when asked whether Trump deserved credit.
"If you helped, you shouldn't even have to say anything. If I helped somebody, I don't walk around saying, 'You know I helped you now. C'mon now, give me some love. I helped you,'" Ball told CNN. "I'm just saying, why is that on your mind? All this stuff going on and that's on your mind, that a father didn't say thank you? And you're supposed to be the head of the — you know, you're the head of the U.S.?"
However, when Cuomo replied that it was fair of Ball to question why Trump would make others' gratitude a public talking point, Ball insisted that he was not criticizing the president. "What is the criticism [in] that? ... There's a lot of other things that's going on, man. Let him do his political affairs and let me handle my son and let's just stay in our lane," Ball said.
Ball is not only the father of LiAngelo Ball, but also Los Angeles Lakers rookie Lonzo Ball and future UCLA player LaMelo Ball.
Before Ball was interviewed by CNN, the popular basketball dad had first spoken to ESPN. During that particular interview, Ball downplayed the notion that Trump had played a significant role in the Chinese government's decision to allow the three UCLA players to walk free.
"What was he over there for?" Ball rhetorically asked ESPN. "Don't tell me nothing. Everybody wants to make it seem like he helped me out."
It was this that seemingly prompted the Nov. 19 tweet from President Trump:
Despite Ball not thanking the president, his son LiAngelo and the two teammates who also faced potential jail time all thanked President Trump days before the father's interview with ESPN.
That fact did nothing to deter the president from saying he should have left the students in jail, however. Meanwhile, Trump's response on Twitter did nothing to persuade Lavar Ball that he should think twice about not giving the president credit.
"Did he help the boys get out? I don't know. I don't know," Ball told CNN. "If I was going to thank somebody, I'd probably thank President Xi. I'd thank him. He's in China. He's the head, the president in China. I mean somebody can make a suggestion and somebody can do something. You've got people who make suggestions and people who do things."
Within sports media, Lavar Ball is a much publicized figure known for delivering interviews hallmarked by boisterous claims and promotion of the family's company, Big Baller Brand. Ball's interview with CNN, despite not being about sports, was ultimately no different.
"I'll send you some Big Baller merch," he told Chris Cuomo before signing off. "You gonna be a Big Baller for ever."