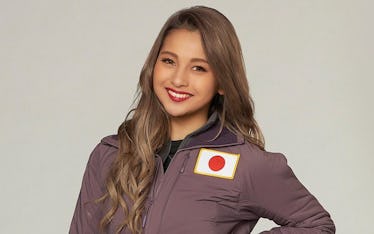 Yuki Tweeted About Being Sent Home From 'Bachelor Winter Games' & It's So Cute
ABC/Bachelor Winter Games
I didn't know what to expect when I first started watching Bachelor Winter Games — I mean, did any of us? But I certainly didn't expect to fangirl out over Yuki, the bubbly contestant from Japan who quickly became a major fan fave, despite the fact that she speaks very little English. Sadly, host Chris Harrison sent her home in tears on Feb. 20, way before she was ready to leave the swanky Vermont mansion. The 21-year-old wasn't the only one sobbing, though. Fans on Twitter lost it as well, and these tweets about Yuki leaving Bachelor Winter Games will have you wanting to go back in time and give her all the roses.
And it's not just the fans who love Yuki — everyone in the house seemed to adore her as well. She taught Dean how to make "sugar eggs" and waxed poetic about her love for ketchup. She even scored a "friendship" rose in Week 2 from Ben Higgins, after which the two basically proceeded to become besties. The went sledding together and made side-by-side snow angels. But when Higgins decided to leave the show because he wasn't ready to find love again — yup, he's still not over Lauren B. — Yuki was left to fly solo. And that's when host Chris Harrison unceremoniously swooped in to tell her she had to go, since she was the last remaining single person on the show. And, like, what? Who even knew that was a thing? On Paradise they bring in extra singles to mix things up. Now they're suddenly getting rid of them? Are they making these rules up as they go along? Because I call bull. Sorry, but I was just so not prepared for this sweet little soul to have to pack up and leave — and neither, it seems, was anyone else.
Twitter basically exploded with reactions to the ousting.
Yeah, we're gonna need some answers, Mr. Harrison. But all we've gotten so far is this tweet, where he's basically all "Blah, blah, blah, Ben Higgins," and then mentions Yuki at the end as an after-thought:
Whatever, Chris. At least Higgins tweeted out a heartfelt message about our girl.
Yes, Ben. YES. A round of slow claps for you, my friend!
Anyway, now that Yuki has left BWG, her fans seem to have some ideas for ABC about what she should do next.
"Gonna start a petition to give Yuki a spin-off show called Yuki in the USA," wrote one. "Who's with me?"
Me! I am with you!
"Ben and Yuki BFF spin off show," added another tweeter. "Make it happen @ABCNetwork - give us what we want."
Yup, I'd totally watch that show, too. Especially if we get a repeat performance of those epic snow angels.
A third tweeter wants to see Yuki as The next Bachelorette.
A fourth is shipping her and Wells Adams for a joint bartending gig on Bachelor in Paradise, and, like, how dope would that be?
And a fifth tweeter just wants her to come onto Paradise this summer so she can finally find the true love she deserves.
OK — can we PLEASE make this happen? Yuki on Paradise would give me life, and I am boycotting the show if she's not on it. It totally sounds like Yuki would be up for being brought back into the Bachelor fold too, because check out this tweet below she posted shortly after the latest episode. Fun fact: Ben Higgins "liked" it.
OF COURSE, I will wait for you, Yuki! And until the day comes when I finally get to see your smiling face back on my TV screen, I'll just be over here like this: