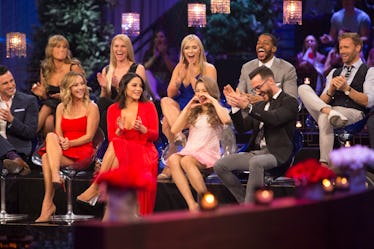 This 'Bachelor Winter Games' Contestant Returned For The Tell-All & Twitter Lost It
ABC
Bachelor Winter Games has come to a close, and there's been a lot of mixed feelings from fans. One thing we are all clear on — Yuki is queen and we only want good things for her. Most of the cast members made an appearance on the after show, World Tells All, to rehash some great and not-so-amazing memories. Yuki on Bachelor World Tells All gave fans all the feels, and people were thrilled to see her there.
Yuki looked happy at the reunion episode in a pink dress, her hair down in curls, and some seriously fancy nail art. Needless to say, everyone was thrilled to see her and she may be the most loved contestant in Bachelor franchise history.
Yuki definitely had the highest mountain to climb on Winter Games. Speaking very limited English, she was still able to make a connection with everyone in the house. It was a very tearful goodbye when she left Vermont. Unfortunately, her "best friend," Ben Higgins, left on his own after not being able to open up romantically to anyone. Long story short: He's still not quite ready to date after his break-up with ex-fiancée Lauren Bushnell. That left Yuki as a lone wolf, resulting in her leaving. Tears were shed.
Chris Harrison teased the painful departure on Twitter, but WE WERE NOT PREPARED. He described the conversation with Ben as "brutal" and the sit down with Yuki as "difficult." He said in a tweet on Feb. 21,
Brutal talk with a good friend tonight @benhiggi and very difficult to sit down with Yuki as well. #TheBachelorWinterGames
Ben also shared some sweet words among Yuki's departure. He tweeted from Honduras on Feb. 21,
There is only a few people in this world that can light up a room without needing to say a word. Yuki you are one of them. Good bye best friend, see you soon.
Post show, Yuki seems to be doing great. She received one of the biggest rounds of applause on World Tells All. She said she had "good time" on the show. Although she didn't find a love connection, she added that she is "fine," and Ben is her "best friend."
Ben commented a few more sweet things about his BFF Yuki. He started by saying how much respect he has for her after she traveled around the world and entered a house filled with a bunch of "crazy people." He continued,
From the moment she walked in the door, we knew there was something special about this person.
Twitter exploded with love for Yuki. One fan on Twitter, @MauraJudkis, had the biggest brainstorm of all time with this tweet reading,
Gonna start a petition to give Yuki a spin-off show called Yuki in the USA, who's with me? #BachelorWinterGames
Another great idea came from @EmilyAlchin. If Freeform can give us a Ben and Lauren B. spinoff, there's NO REASON they can't give us a Ben and Yuki spinoff. DO YOU HEAR ME, TV PRODUCERS?
Ben and Yuki BFF spin off show. Make it happen @ABCNetwork - give us what we want #BachelorWinterGames
To flush out the show a little more, @Alexawritergirl, gave more details to this amazing idea.
I desperately need a reality show where Ben and Yuki just travel the world,hang out and bring joy to us all #BachelorWinterGames
Bachelor fan @katemellencamp asked the question we were all thinking.
Where do I sign up for the Yuki fan club? #BachelorWinterGames
If we learned anything from Winter Games it's that Bachelor Nation wants and needs more Yuki in their life.
Yuki may not have found love, but she found a massive fanbase in the Bachelor franchise. Keep doing you, Yuki.