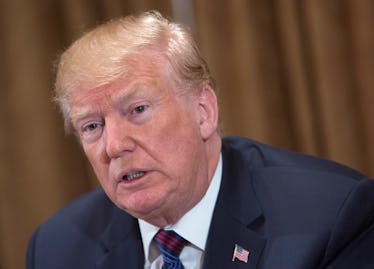 Donald Trump Tweeted About Holocaust Remembrance Day & Twitter Is Calling It Out
Pool/Getty Images News/Getty Images
April 12 marks Holocaust Remembrance Day, a day set aside to remember the six million Jewish people who were killed by the Nazis during World War II. It's only fitting that the President of the United States of America would comment to the people on such a day... usually. When President Donald Trump decided to tweet out a statement, however, it was a different story. These tweets about Trump's Holocaust Remembrance Day statement are calling out the irony.
On April 12 Trump tweeted out a White House statement "proclaiming" April 12 through April 19 as the "Days of Remembrance of Victims of the Holocaust." Trump wrote in the tweet,
On Yom HaShoah we remember the six million Jews slaughtered in the Holocaust. With each passing year, our duty to remember this atrocity increases as we pledge #NeverAgain. #HolocaustRemembranceDay.
In itself, there was nothing wrong with the president's sentiment. Each year, as the number of living Holocaust survivors dwindles, the "duty" to keep what happened alive and prevent it from ever happening ever again does increase. So everything Trump said in his tweet was indeed true.
However, many people found it very ironic that he had chosen to write anything at all, given his history of allegations of anti-Semitism and prejudice, as well as his refusal to denounce white supremacists.
Trump definitely does not have the best track record when it comes to quelling racism.
On August 12 2017, after a neo-Nazi rally in Charlottesville turned violent and left one woman dead, Trump initially refused to denounce the white supremacists present, who had been filmed and photographed carrying flags with swastikas and Confederate imagery. In a speech that day, Trump said he condemned violence "on both sides" and later refused to answer a question on whether he wanted the support of white nationalist groups.
In a subsequent statement on August 15, Trump doubled down and chose to say that there were "fine" people on both sides (despite one side waving swastikas around). He said.
You had many people in that group other than neo-Nazis and white nationalists. The press has treated them absolutely unfairly. You also had some very fine people on both sides.
Um. No.
Since Trump took office, the Anti-Defamation League (ADL) has monitored a rise in anti-Semitic behavior. "Anti-Semitic incidents," as they are referred to, spiked 60 percent from 2016 to 2017, according to Time. 2017 saw a heavy increase in Nazi graffiti (mainly swastikas), vandalism, and physical attacks. In 2017 Jewish cemeteries were vandalized across the country and the ADL reported that 163 bomb threats targeted Jewish institutions, a 41 percent increase over 2016. Trump, however, offered mostly halfhearted condemnations for several weeks, before finally addressing them directly in a joint session of Congress.
The Anne Frank Center even called President Trump out on it. In a February 2017 statement, Executive Director Steven Goldstein said,
Rightly or wrongly, the most vicious anti-Semites in America are looking at you and your administration as a nationalistic movement granting them permission to attack Jews, Jewish institutions and sacred Jewish sites.
Moreover, Trump has been faced with a similar dilemma in his own time — and his actions have not really aligned with the sentiments of his Holocaust Remembrance Day tweet.
Many critics have noted that America's approach to the Syrian refugee crisis mirrors the treatment of Jewish refugees before and during WWII. During that time, the United States turned away Jewish refugees from violence, in a way that many connect to the treatment of refugees today. There are more than 5.6 million Syrians registered as refugees and America has resettled a mere 44 since October 2017, according to HuffPost. So, does Trump just not see the similarities? His tweet seems to give with one hand and slap with the other.
So, I am not at all surprised that Trump is being called out for his Holocaust Remembrance Day tweet. But hey, at least he made one. An E for Effort, I guess?