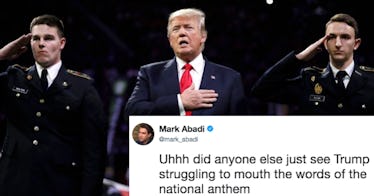 Trump Seemingly Forgot The Words To The Anthem & All Hell Broke Lose On Twitter
Jamie Squire/Getty Images/Twitter
President Donald Trump's show of patriotism at the college football National Championship quickly turned into comedic material for Twitter users on Monday night, Jan. 8. It all started before the game even began, when Trump stood between service members at midfield and appeared to mumble his way through the playing of the American nation anthem. It wasn't long 'til video of the moment made its way onto social media, prompted tweets about Trump singing the national anthem, and made people seriously ask: Did the president forget the words?
Josh Dawsey, a White House reporter for The Washington Post who traveled with the president — as most White House reporters do — wrote on Twitter, "To be clear: We were about 30 feet from Trump during national anthem. We could not tell what he was saying or singing. He appeared to mouth some of the words and was quiet for some of the others."
Others were, let's say, less diplomatic with their responses to the president's demeanor during the anthem.
Andy Lassner, the executive producer for Ellen DeGeneres' daily talk show, had this to say: "Really looking forward to what ridiculous, bullshit explanation @PressSec [White House spokeswoman Sarah Huckabee Sanders] comes with to explain why @POTUS doesn't know the words to our national anthem."
Yeah, less diplomatic.
Now, let's be real, the idea that the President of the United States would forget the words to the anthem of — uh — the United States is pretty absurd. And yet (and yet!) it's pretty hard to not look at the video of Trump's (attempted) mouthing of the words to the national anthem and not notice he looks the way the rest of us do when we try to sing as many words as possible for a song we all love by don't quite know all the way.
As comedian Matt Fernande wrote on Twitter, "Trump sings the National Anthem the way everyone sings Bone Thugs n Harmony songs."
I mean, kinda, right?
Anyway, regardless of whether or not Trump actually forgot the lyrics to the anthem in real time — let's face it, we'll never know for sure, nor will anyone care after a day — we all know why this is a big deal.
The president himself has gone out of his way to make a big deal about superficial demonstrations of patriotism since football season started. It's no wonder why people linked their responses to Trump calling for NFL owners to fire players who don't stand for the national anthem.
Just a few days after the new year, when practically no one was talking about NFL players kneeling, Trump tweeted about NFL players kneeling.
It's no wonder why people linked their responses to the president's history of commenting on football players protesting during the anthem.
"Super obvious Trump doesn't know the words to our National Anthem," wrote Kaivan Shroff, who's noted by The New York Times as a former campaign aide for Hillary Clinton. "Disgraceful for any president, but particularly bad given his months of race-baiting rants against NFL players kneeling to demand justice."
Judd Legum, the editor-in-chief of progressive news site ThinkProgress, wrote, "IDEA: Before spending 6 months lecturing football players about respecting the national anthem MAYBE LEARN THE WORDS."
Another user wrote, "Trump's been trying to get football players fired for kneeling during the National Anthem and this man can't even mumble it on national television right lmfao."
Long story short, you can't make a big deal "disrespecting anthem" and not expect the jokes to fly when the president looks (even a little bit) like he doesn't know all the words because, let's be clear, this is definitely hilarious.