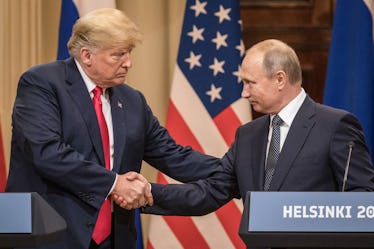 People Are Tweeting #TreasonSummit As Trump & Putin Meet In Helsinki
Chris McGrath/Getty Images News/Getty Images
President Donald Trump and President Vladimir Putin kicked off their Helsinki, Finland summit on Monday, July 16. The two leaders briefly met and shook hands in front of press before heading to a meeting. Given the current strained relationship between the United States and Russia, all eyes are on Trump and Putin in Helsinki. Tweets about the Trump and Putin Helsinki summit have everyone saying the same thing, and the #TreasonSummit hashtag is what everybody is talking about.
The play on words for the Helsinki summit comes thanks to the awkward timing of a meeting between these two countries. It was only on Friday, July 13 that the Justice Department announced indictments against 12 Russian nationals for their alleged "sustained effort" to hack the emails and computer networks of the Democratic party, per CNN. The indictments came as a part of special counsel Robert Mueller's investigation into Russian meddling in the 2016 presidential election.
With that context, many people didn't think it was wise to have a summit with a nation that is being investigated for having allegedly interfered with the U.S. democratic process, especially since President Trump began his Monday morning on Twitter by calling the Russia investigation a "Rigged Witch Hunt."
President Trump regularly dismisses the Russia investigation as a "witch hunt," and he went on to further blame the United Sates entirely for a tense relationship with Russia. In his Monday, July 16 tweet about the matter, Trump wrote,
Our relationship with Russia has NEVER been worse thanks to many years of U.S. foolishness and stupidity and now, the Rigged Witch Hunt!
Ahead of their July 16 meeting, Trump and Putin met with the press at the presidential palace in Helsinki. In a video of the meeting posted by the Associated Press Twitter account, Trump promised improved relations with Russia when he said,
We've been not getting along very well for the last number of years. I've been here not too long, but it's getting close to two years. But I think we will end up having an extraordinary relationship. I hope so. I've been saying it, and I'm sure you've heard over the years — and as I campaigned — that getting along with Russia is a good thing, not a bad thing.
Enter the #TreasonSummit hashtag.
Treason is defined as a crime of betraying one's country, and people couldn't help but noticed that the hashtag seemed to fit.
People were not pleased with Trump's genial demeanor toward Putin, especially given the ongoing investigation into Russian interference in the 2016 election.
Some people found it hard to believe that Trump had America's best interests in mind.
Others looked to Mueller for more news concerning the Russia investigation.
Some people called the surreal summit "a moment for the history books."
Trump's silence on Russian interference in the 2016 election does not sit well with many people talking about the summit.
People didn't believe that Trump had U.S. interests in mind during the meeting.
Putin's words didn't pacify anyone, either.
Thankfully, someone tweeted a play on words to lighten the mood.
But then it was right back to wondering how Trump could listen to Putin deny election interference following the recent July 13 indictments of 12 Russian nationals.
According to CNN, the Monday meeting in Helsinki between Trump and Putin went longer than the allotted 90 minutes, but some people are concerned that Trump didn't dig for answers regarding the potential Russian interference in the 2016 election. Per the network, Trump didn't have a strong stance on the subject when asked about it on Thursday, July 12 during the NATO summit in Brussels. Trump said at the time,
[Putin] may deny it. So all I can do is say, 'Did you?' and 'Don't do it again.
It's that blasé attitude toward a serious issue that gives people cause for concern and very little hope that any information about Russian interference was revealed during the summit.