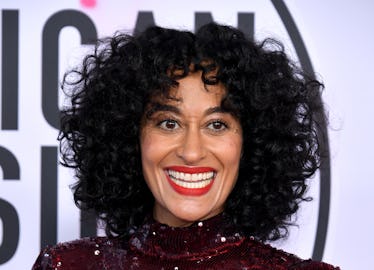 Twitter Can't Stop Talking About Tracee Ellis Ross' Hilarious Dress At The AMAs
Neilson Barnard/Getty Images Entertainment/Getty Images
The American Music Awards featured tons of unforgettable acts and amazing moments. However, I was a bit distracted by Tracee Ellis Ross' opening outfit to notice anything else. Don't get me wrong, she makes an amazing host — funny, natural, truthful. However, she made a... statement. The actress blazed on stage wearing a copper-colored dress covered in ruffles. Tweets about Tracee Ellis Ross' dress are so, so funny.
What brings Tracee Ellis Ross to host this year's AMAs? If you haven't made the connection, Tracee Ellis Ross is the daughter of the iconic Diana Ross. It's really a family affair this year because Tracee is hosting, and her mother, Diana, is performing and receiving a lifetime achievement award. Tracee called her mom an "international treasure" during an interview with People. She also explained that Diana performing at the AMAs will bring her voice to a whole new group of people. She said,
I'm excited that a younger generation gets to witness that, even just through the television screen. Also, I think it's a really extraordinary thing to honor somebody who's had such an everlasting career, whose music has touched lives in such a poignant and special way. Music reaches into your heart, and my mom's voice has been a part of people's lives for a long time.
Basically, there isn't a more perfect host for the evening than Tracee. Also, best daughter ever, AMIRIGHT? Honestly, I don't understand why she hasn't hosted anything else in recent years — she's super funny and engaging. However, I don't know if I can get over the dress.
Although Tracee changed multiple times during the show, her opening look was out of this world. It was a really powerful and unforgettable look. She basically walked out and said, "Here I am, world!" It's not really the color I have a problem with. Although unusual, I thought the coppery-orange looked beautiful on her. I think I'm having the biggest problem with the ruffles. They were large, metallic, and very distracting.
Needless to say, Twitter is lit with hilarious memes about her wardrobe choice.
However, some people are here for Tracee's dress. Maybe I should just bow down to the kween.
I live in yoga pants — what do I know about AMA hosting attire, anyway? Tracee made an amazing AMA host so I'll just let her live. She may be hilarious, but her career is no joke. She stars on the show Black-ish on ABC as Dr. Rainbow "Bo" Johnson.
The show is considered a comedy, but takes a hard-hitting look at the cultural identity of an African American family living in today's social and political climate. Tracee plays a bad*ass woman on-screen and off. This year, she became the first African American woman to win a Golden Globe for Best Actress in a TV Comedy or Musical in 35 years. Pretty amazing.
After winning the award, she told the Washington Post,
This is for all of the women, women of color, and colorful people whose stories, ideas, thoughts are not always considered worthy and valid and important. But I want you to know that I see you. We see you.
If you're not a Tracee Ellis Ross fan, you honestly should be. She's an inspiration. Hopefully the American Music Awards will just be the beginning of her award show hosting career. I say, bring her in for the Oscars. Honestly, why not?
The American Music Awards had a lot of exciting things happen — unforgettable performances, great presenters, and an overall smooth show. To anyone who though the AMAs were going to be a sleeper show (*cough, cough Justin Bieber*), you were very much mistaken.
Check out the entire Gen Why series and other videos on Facebook and the Bustle app across Apple TV, Roku, and Amazon Fire TV.