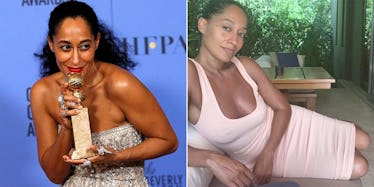 Tracee Ellis Ross Is Killing It In Her 40s, Proving You Only Get Better With Age
REUTERS/Instagram
Pay attention.
One of the best comeback stories in Hollywood is happening right now and it's being written by Tracee Ellis Ross.
Actually, it feels a little bit unfair to call this a comeback. It's more like an evolution.
At 44 years old, Ross' career and image has gotten better with age.
At this stage, she's like a fine wine, as the fans who make appreciation posts of her go viral will tell you.
If it looks like she has a certain glow to her these days, it's because her career is lighting up again, a decade after she first had her big role.
Most of us came to know Ellis Ross when she starred on "Girlfriends," the hit TV show on which she played Joan Clayton.
As Joan, Tracee played the leading and most likable character among a group of young black women whose friendships and dating lives gave us endless entertainment.
These days, however, Ellis Ross is doing her thing as the mom in a show that's just as important for the culture, ABC's "Black-ish."
As the title of the show implies, "Black-ish" puts the culture and identity of an African-American family at the center of a production that takes on hard-hitting topics like the fallout from the presidential election.
But that doesn't stop "Black-ish" from being an overall great show, for anyone, as Ellis Ross said herself on Thursday's episode of "The Daily Show."
Trevor and @TraceeEllisRoss discuss the oft-repeated claim that Blackish is a "black show." https://t.co/FQoyUqstuZ pic.twitter.com/akH9MjFOTb — The Daily Show (@TheDailyShow) February 9, 2017
On "Blackish," Ellis Ross played the role of Dr. Rainbow "Bo" Johnson, and she got recognized in January for crushing that role when she the first black woman in 35 years to win the Golden Globe for Best Actress in a TV Comedy or Musical.
After winning the award, she said,
This is for all of the women, women of color, and colorful people whose stories, ideas, thoughts are not always considered worthy and valid and important. But I want you to know that I see you. We see you.
But her role in "Black-ish" isn't the only reason the second coming of Tracee Ellis Ross is so enjoyable.
Here are a few more:
She's forever pop culture royalty.
As she reminded us after her Golden Globe win, she's worthy of the crown passed down to her by the one and only, her mother, Diana Ross.
She's with the people.
In the social media age, in which celebrities can share their thoughts with us more than ever, Tracee Ellis Ross consistently shows her thoughts are with the issues many of her fans care about.
Whether she's wishing a happy birthday to Trayvon Martin, or remembering Sandra Bland, Ellis Ross is down with pushing for the advancement of women and colored people.
Serving looks.
There's something that has to be said for how well Ellis Ross is at carving out this rejuvenated image. Go ahead, take a look at any one of her Instagram pictures. In most of them, it's like she's unreservedly basking in her own radiance.
That can only come from the type of self-love she described to People,
I cook naked, and I walk around naked. I'm very comfortable with my body.
Simply put, she's really good at the evolution thing and with every looks she serves it's almost as if she knows what we think about her: "yeah, I know, I got better with age."
And you know what, she definitely did.