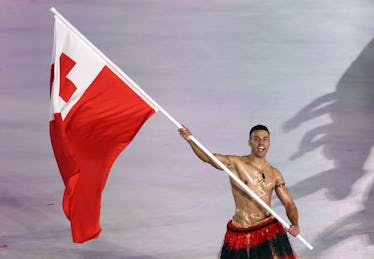 Twitter Is So Thirsty For Tonga's Flag Bearer & Honestly, Aren't We All
Jamie Squire/Getty Images Sport/Getty Images
The 2016 Summer Olympics felt a million degrees hotter when Tongan flagbearer and taekwondo athlete Pita Taufatotua entered the opening ceremony shirtless and oiled up. If you counted this miracle as another reason why the Winter Olympics just can't measure up to the Summer Games, think again. Competing this year as a cross-country skier and only the second Tongan athlete in Winter Olympics history, Taufatotua appeared at the PyeongChang opening ceremony as a shirtless flagbearer once again. Tweets about the shirtless Tongan flagbearer are trending and, even without a medal yet, it's safe to say that Taufatotua's abs have won the games.
During the ceremony on Friday night, Taufatotua appeared in the Parade of Nations as the sole athlete for Tonga. The moment would have been historic even if he was wearing clothes, as Taufatotua achieved the seemingly impossible by qualifying for the Winter Games. He didn't medal in any events during the Summer Olympics, which inspired his quest to take up a new sport in time for the 2018 Winter Games. The challenging conditions of cross-country skiing attracted him the most, as he told the Olympic Channel:
After Rio I decided to find the hardest sport possible, because I needed a new challenge, and the hardest sport possible was cross country skiing. You know look at the conditions, it's like freezing, it's negative a million degrees, and then you've got to put your body through something really challenging.
With brutally cold temperatures reported in South Korea this week, you'd think that Taufatotua would embrace this climate change and his new sport by wearing a bulky parka to the opening ceremony. Proving that he's both proud of his roots and a perennial daredevil, he shocked the world by donning the same traditional Tongan mat he made famous at the Rio de Janeiro Games.
Clearly, the more things change, the more they stay the same.
Bless the Olympics.
My constant annoyance with the Winter Games is that the athletes are often so bundled up that they're not as recognizable as Summer Olympic participants. I live for the heartwarming backstories and feeling like I truly know the athletes, and I've always missed that during the Winter Olympics. However, Taufatotua's ballsy choice of attire told Twitter users that he won't be forgotten anytime soon. After all, it takes a real man to wear that in 32 degrees Fahrenheit.
I don't know about you, but this sight definitely warmed up my cold February night.
The decision to attend the ceremony barechested follows Taufatotua's previous assurances that he would be prepared for the chilly weather. Speaking to Britain's Press Association earlier this month, he said:
I want to still be alive for my race. It's going to be freezing, so I will be keeping nice and warm.
So much for that idea. Before heading out shirtless at the opening ceremony, Taufatotua reportedly said:
I won't freeze. I am from Tonga. We sailed across the Pacific. This is nothing. It's a little bit warmer being in Rio than in here... anytime you get to represent your country is a good time.
One of the best parts about this is that Taufatotua's unorthodox return to the Olympics has opened up conversation about a third appearance at the games. He shared with Britain's Press Assocation that trying to qualify for the 2020 Summer Olympics wasn't out of the question for him:
I feel I have got unfinished business with taekwondo.
We'll have to wait and see if a spot at the Tokyo Games is in the cards for Taufatotua, but for now, it's time to root him on in cross-country skiing. The first men's cross-country skiing event begins on Sunday, Feb. 11.
To learn more, visit teamusa.org. The Winter Olympics will air live starting Feb. 8.
Erin Jackson is an inline skating world medalist and roller derby MVP. She dreamed of skating in the Olympics, but to do that, she had to get on ice. She took her first steps on a long-track course in 2016 and started training professionally in September 2017. Four months later, she qualified for the Olympic Winter Games. Check out Elite Daily Insights' video on Jackson's incredible story: