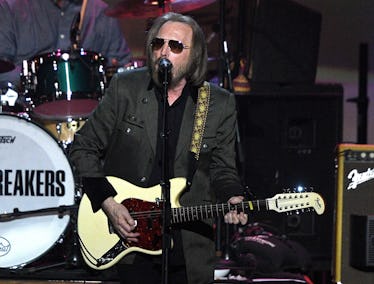 Tom Petty Has Died And People On Twitter Are So, So Emotional – UPDATE
Kevork Djansezian/Getty Images Entertainment/Getty Images
Update 2: On Tuesday, Oct. 3, Tom Petty's longtime manager confirmed that Tom Petty has died.
Update: At 4:35 p.m. EST on Oct. 2, TMZ reported that Petty "is not expected to live throughout the day, but he's still clinging to life." The LAPD and the Los Angeles Sheriff's Department declined to comment to Elite Daily. The LAPD has since tweeted, "The LAPD has no information about the passing of singer Tom Petty. Initial information was inadvertantly [sic] provided to some media sources. However, the LAPD has no investigative role in this matter. We apologize for any inconvenience in this reporting."
Earlier: The world has lost a true music legend. The Los Angeles Police Department has confirmed Tom Petty has died at the age of 66. The frontman of Tom Petty and the Heartbreakers was reportedly taken off life support after suffering from cardiac arrest. What has already been one of the most painful days with the Las Vegas shooting has just become darker, and social media reflects that. These tweets about Tom Petty's death prove we just lost a music icon.
According to TMZ, EMTs rushed to Petty's home in Malibu where he was found without a pulse. He was reportedly rushed to the UCLA Santa Monica hospital, where he was put on life support. TMZ says after Petty got to the hospital, it was reported to have "no brain activity" and the decision was made to take him off life support.
Petty is best known for his hit songs, including "Free Fallin'," "Learning To Fly," and "Breakdown." The band was still out on the road, and they had just finished a huge tour. The tour started on April 20, 2017 in Oklahoma City and it had just ended in Los Angeles at the Hollywood Bowl on Sept. 21.
Celebrities and fans have taken to Twitter to share their condolences in the wake of this enormous loss. People like Stephen King, Josh Groban, and Christina Perri have spoken out in the wake of their sadness.
Tom Petty first jumped into the music scene at the age of 17, when he dropped out of high school to start a band full-time. He was in that band, Mudcrutch, for five years – from 1970 to 1975.
After that, the band disbanded and he moved on to bigger and better things in Los Angeles – namely, Tom Petty and the Heartbreakers, which he served as the band's lead singer and guitarist. Petty has also released three solo albums on his own; Full Moon Fever (1989), Wildflowers (1994) and Highway Companion (2006). Petty once recounted the music industry and how much it has changed throughout his almost five decades of music in an August 2006 interview with Esquire. He said,
When my record company rejected Full Moon Fever, I was hurt so bad. I was pretty far along in my career at that point. I'd never had anything rejected; I'd never really even had a comment. So when that happened, it was really just a board to the forehead. But then finally I picked myself up. I said, "I'm not buying this, there's nothing wrong, I really like this record." And then I waited awhile, until the top regime at the record company changed. And I came back and I played them the same record, and they were overjoyed. It turned out to be a huge hit.
He recounted this change in the music industry again in that same interview, saying,
I couldn't exist nowadays. I could never have built a career like I've had if I were just starting out now. Radio doesn't take a chance on anything anymore; they've streamlined the playlists to the lowest common denominator. It's really kind of silly that they think people would rather hear "Stairway to Heaven" one more time than a new song.
Well, I think it's safe to say that we're happy Tom Petty ever existed. I can only speak for myself, but I think I'd rather listen to "Free Fallin'" one more time than a new song.
Our thoughts and prayers are with Tom Petty's family and friends in this tragic time. Petty was a true legend that will continue to live on in his fans and, of course, in his music.