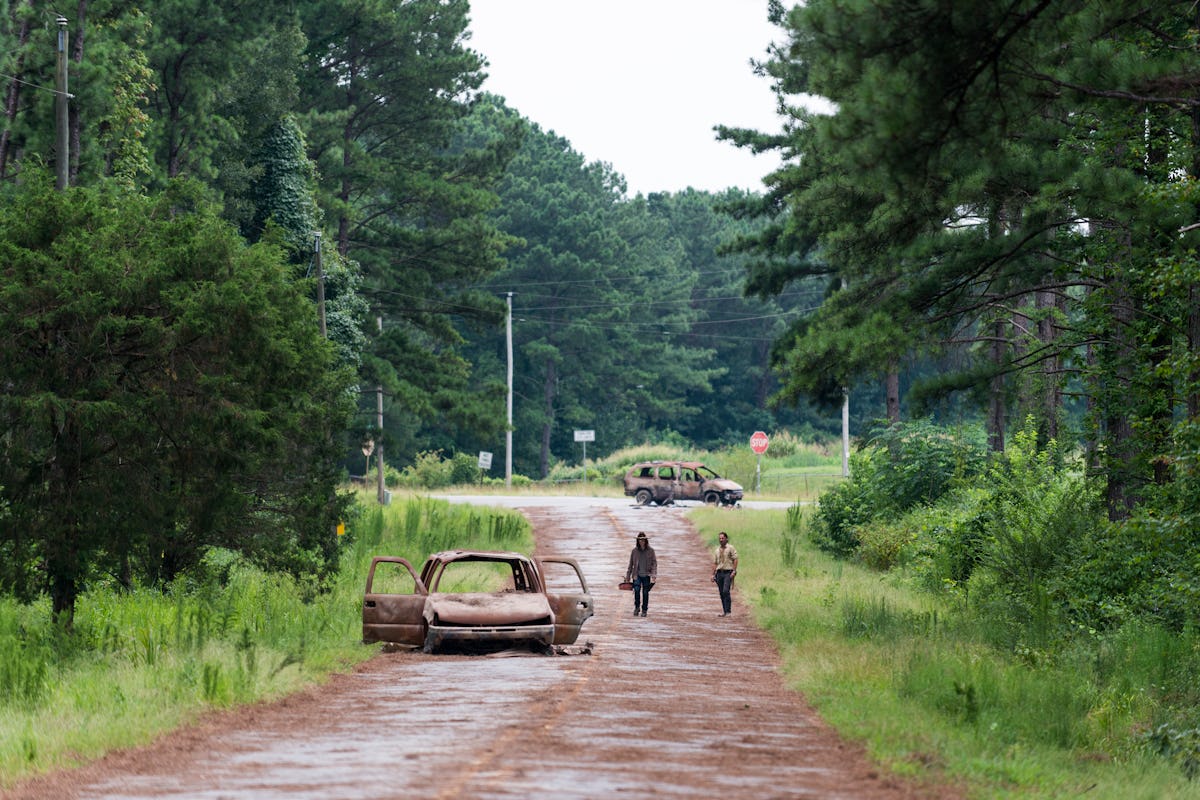 'The Walking Dead's Midseason Finale Had People Freaking Out From Minute One
The mid-season finale of The Walking Dead was always going to be a doozy. Even before the episode aired, fans were chewing their nails and worrying about who might die, what might happen, and whether or not their faves would get to see the credits of the episode. And once the episode started it didn't get much better — tweets about The Walking Dead's mid-Season 8 finale were out of control right from the start.
We've already seen some devastating losses this season, so fans were majorly on edge even before the episode started. Last week's teaser promo warned that the trailer was going to be "action packed" and "emotional," and those are never good words in a show about deadly zombies where everyone is basically dying all the time. The showrunner's description read,
Every story and battle from the first half of the season comes crashing together in this action-packed, emotional mid-season finale.
So yeah, right off the bat, fans were predicting a disaster. As we know, this season was always supposed to be more jam-packed and intense than the previous seven seasons.
As showrunner Scott M. Gimple told Entertainment Weekly, Season 8 would be faster paced and full of some crazy character development.
Things are going to move, and possibly not have the kind of deep dives into characters in single episodes, but rather laying out the pieces as we go on.
With all this info heading into the final episode of Season 8, everyone was terrified that their fave character was the first on the chopping block — and people were having a hard time dealing with the emotions. Because if I'm totally honest, I don't think this is going to go super well.
But things started getting real, real fast when Negan showed up at the gates of Alexandria.
I mean, seriously, a show isn't about to get good until the villain shows up, and everyone knows it. Negan showed up at the gates to get his revenge on Rick and allies and reclaim his little dictatorship, which is really bad for Rick and company but great for the drama levels. And when Carl came to answer the door and our sweet, innocent Carl faced down the best villain in the show, people were shook.
A lot of folks were really worried about Alexandria, too.
Like, even before Negan invaded/it blew up:
Fans were either loving or hating Eugene this episode — a clear divide between people wanting him dead and people cheering on his, um, explosive scene.
The most common and frequent tweets throughout the midseason finale, however, were focused on the amount of commercials that disrupted the zombie-killing flow of the episode.
And then... it happened. And Twitter rightfully erupted.
Fans couldn't control themselves when that final, jaw-dropping cliffhanger hit and left us hanging. Will Carl live? Is he gone forever? Could he return? Is there any coming back from that bite? We need answers. For now, let's just take our time sobbing on our keyboards while reading these tweets:
The bad news is we won't have answers about Carl's fate next week. The good news is the show won't be gone for too long. While there isn't an official date for when The Walking Dead Season 8 will return, it will will likely be back in February 2018. According to ComicBook.com, the show will be back in a mere three months and the season will officially end this coming April. This is the way the show has operated for the past six seasons, so you'll have more than enough time to theorize and pray for Carl.