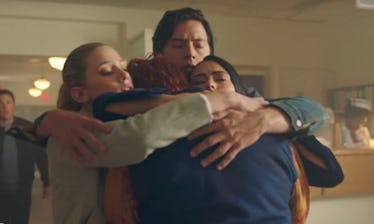 These Tweets About The 'Riverdale' Season 2 Premiere Will Hold You Over Until Episode 2
Hold on to your crown beanies, folks, because Riverdale Season 2 is already taking audiences on a wild ride. Our emotions are all over the place and we don't know what to feel or where to begin. From the somber to the sexy to absolutely chilling (oh hey, Cheryl!), it was a blur of nerves, revenge, and new mysteries to obsess over. If the tweets about the Riverdale Season 2 premiere are any indication, most of the Internet is going pretty crazy in response to what they have just witnessed.
Riverdale viewers show no mercy. I should know, I'm one of them. And we take what happens on this series very seriously. Yes, we know these people are not real, but it's hard not to think of them as such sometimes... So when it comes to making themselves heard, a lot Riverdale fans aren't exactly shy on social media. In fact, sometimes they are downright hilarious. The second season opener started with us biting our fingernails wondering if Fred Andrews was going to survive, and it ended with a — dun dun dun — twist that is setting the new theories and the OMGs in motion. Here's what people are saying about THAT ending.
But that's not the only memorable moment. The episode was just a string of juicy and scandalous crumbs. Cheryl, was well, the most Cheryl ever times 1000. But now she really means business. Like, threaten-her-own-powerless-and-hospital-ridden-mother business.
There was time for romance, too! This zip code isn't all murder and destruction. After Archie washed the blood off his body (eek), Veronica joined him for a little shower session.
Jughead and Betty also had their share of screen time as we had hoped... but so did the Serpents. Yay for Bughead cuteness, but we sense trouble-a-brewing already.
As expected, there's Hiram Lodge sporting a crisp suit and a menacing look on his face. He is pissed about Veronica drinking his Cristal and he is so up to something. We are not alone in our fears.
Oh, Archie has a bat and he's not afraid to use it? This. Is. Too. Much.
And we thought Season 1 gave us a lot to sink our teeth into. The second season premiere totally delivered in our humble opinion, but not all of you are happy about what went down.
Hey, this isn't a fairytale sitcom where everything works out and each episode closes up shop with a lesson and a hug. They usually end in murder or something, guys. As much as we would love to see our beloved Archie and the gang smiling all the time, we knew we were in for a darker season this time around. And we're not even in the thick of yet, according to producer Roberto Aguirre-Sacasa. Apparently it's only going to get more difficult as time goes on. He told EW,
I would say by Episodes 4 and 5, Betty is absolutely in the heart of darkness. We're putting her through the fires like never before. I can't say too much because there's a couple of big twists, but Betty is absolutely at the heart of the darkest story we're telling this season.
4 and 5? It's not even 2 yet and we're at the edge of our seats. We also haven't seen the official introduction of Serpent Toni Topaz or Veronica's bad boy ex, Nick St. Clair. All of that is only going to stir up more trouble, right?
If you thought this season was going to be less than ridiculously intense, you're probably watching the wrong TV show. Flip the nightlight on and start working on your fan theories, people — Riverdale is back with a vengeance.