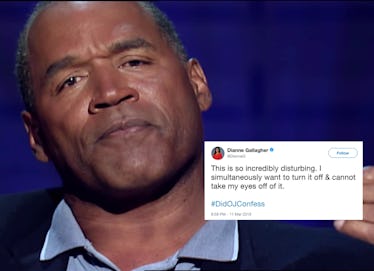 The 'O.J. Simpson: The Lost Confession' TV Special Had Twitter Freaking Out All Night
Fox
There have been plenty of surprising moments in 2018, but Sunday's O.J. Simpson: The Lost Confession special proved to be the most surprising yet. During the two-hour special, Fox combined never-before-seen interview footage of O.J. Simpson from 2006 with present-day commentary from experts and people close to the case. In the 2006 interview, Simpson discusses what could have hypothetically happened the night that Nicole Brown Simpson and Ron Goldman were murdered, and naturally Twitter freaked out about Simpson's shocking — and disturbing — statements. As tweets about the O.J. Simpson: The Lost Confession TV special reveal, viewers were prompted to question everything they know about the infamous 1995 double homicide case, which ended with Simpson being acquitted of both murder charges.
The bulk of the O.J. Simpson: The Lost Confession special came from a 2006 interview with publisher Judith Regan to promote the book If I Did It, a hypothetical account of Brown Simpson and Goldman's murders. Elite Daily reached out to O.J. Simpson's current attorney, Malcolm LaVergne, for a comment on Fox's special but did not hear back by the time of publication. However, LaVergne did insist on Twitter that Simpson "never participated in the book chapter dealing with June 12, 1994," the night Goldman and Brown Simpson were murdered.
The book itself is mired in controversy: In 2014, Simpson's former manager, Norman Pardo, told HuffPost Live that the publisher hired a ghostwriter for the book and offered Simpson $600,000 "not to dispute" that he wrote it. "A ghostwriter for [the book's publisher] wrote the book. [O.J.] was going to do an interview to say, 'I wrote the book, blah blah blah,' and they give him money," explained Pardo.
Regan's company, ReganBooks, was set to publish If I Did It, but when the interview and book were announced, the public erupted with criticism, insisting that it was unfair for Simpson and ReganBooks to profit off the victims. Fox shelved the unaired interview, but 12 years later, the network decided to air it after receiving permission from Brown Simpson's sister, Denise Brown.
And boy, was the resulting special riveting. The most interesting part of the interview came when Simpson discussed what hypothetically might have happened the night of the murders. Simpson has maintained his innocence ever since — including during the special — but that didn't stop him from speculating about what could have happened that night.
In the interview, Simpson says that hypothetically, his friend Charlie (there's no mention of Charlie in the case and it's unclear who Simpson is referring to) could have told him that something bad was happening at Brown Simpson's house, prompting the duo to immediately head over there.
We get in the Bronco and go over. In the hypothetical, [we park] in the alley. In the hypothetical, I put on a wool cap and gloves. I always kept a knife in that car for the crazies and stuff, because you can't travel with a gun. And I remember Charlie saying, "You ain't bringing that," and I didn't. Alright? But I believe he took it. In the book.
Simpson says that it's possible Goldman could have arrived shortly after, and that's when things may have gotten physical.
In the mood I was in I started having words with him ... It got a little loud, and by that time Nicole had come out, and we started having words about who is this guy, why was he here, what's going on ... As things got heated I just remember Nicole fell and hurt herself, and this guy got into a karate thing, and I said 'Well, do you think you could kick my ass?' and I remember I grabbed the knife - I do remember that portion - I grabbed the knife from Charlie, and to be honest, after that I don't remember, except I'm standing there and there's all kinds of stuff around, and blood and stuff, and… I hate to say this but...'
At the end of this gruesome hypothetical story, Simpson laughs. Like, a lot. It's this laugh that got Twitter going in the first place.
Some viewers — even those who have believed for over 20 years that Simpson is innocent — were swayed by Simpson's hypothetical story, and some said they believe that only a "psychopath" would be able to so calmly discuss the case.
One of the special's panelists, prosecutor Christopher Darden (who was played by Sterling K. Brown on The People vs. O.J. Simpson) agrees with those on Twitter who believe that Simpson is guilty, despite his acquittal. After watching Simpson's hypothetical story for the first time, Darden said, "I think he's confessed to murder ... I don't think there's any question of his involvement and that he is the person who is wielding the knife."
However, not everyone felt that way about the O.J. Simpson: The Lost Confession special. Some Twitter users believe that the original 2006 interview was simply a publicity stunt for the book and that airing it on Sunday night — the same night that ABC premiered American Idol — was nothing more than a ratings grab.
Regardless of the massive Twitter response to the O.J. Simpson: The Lost Confession special, nothing new will happen in the case: double jeopardy prevents Simpson from being retried for the murders of Brown Simpson and Goldman. But it should be noted that Simpson was found liable (which is not the same thing as guilty) for the deaths of Brown Simpson and Goldman in a 1997 civil trial, for which he was ordered to pay a total of $33.5 million to the victims' families.
It's been over 20 years since the criminal and civil trials, but interest in the case doesn't seem to be waning — especially now that Simpson is out on on parole for his 2008 kidnapping and robbery conviction — so I wouldn't be surprised if another O.J.-related special is on its way.