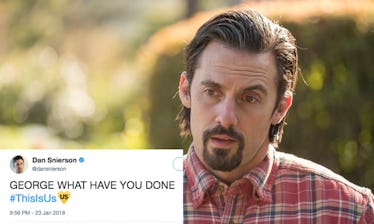 These Tweets About The Fire On 'This Is Us' Will Make You Seriously Feel Things
Ron Batzdorff/NBC
Wow... it finally happened. The moment This Is Us fans have been anticipating/dreading since the family drama started over a year ago. On Tuesday night's new episode, This Is Us finally revealed how Jack Pearson died, and it was even more heartbreaking than anyone was expecting. After the emotional and long-awaited reveal, Twitter broke down in a mass cry-fest. Check out some of the best tweets about Jack's death on This Is Us below. Spoiler alert: Don't read on until you have seen This Is Us Season 2 Episode 13 "That'll Be The Day" for yourself.
Tuesday's new episode of This Is Us was even more of an emotional knockout than usual for this show. After over a year of waiting, fans finally got the answer to the big mystery from the show's pilot episode: How did Jack die? The flashback portion of the new episode was set on Super Bowl Sunday, with all the teenage Pearsons throwing their own tantrums and having one last fight with Jack, because of course they had to make this the saddest death ever. Young Kevin takes out his frustration on having to split up with Sophie and attend community college on his parents, and teen Kate kind of blows up at her dad for filming her while she sings. And then there's young Randall, who chooses to spend time with his new girlfriend instead of with Jack, choosing to go see Titanic rather than watch the Super Bowl (honestly, I'm with Randall on this one).
But then the Pearson family tension finally gave way to some heartfelt moments with Jack before his untimely death. Kate sees how much her father loves her, and thanks him for filming her singing audition. And Rebecca agrees to work with Jack as part of his new contracting company, and they excitedly plan their future together.
But all that falls apart... and why? Because of a freaking crockpot!! Turns out, a crockpot that the Pearsons' neighbor George gifted the family is what started the house fire that kills Jack. Honestly, how dare you, George!? I hope you are happy! Of course, Twitter exploded in an emotional rage over the big death reveal, and now I think this fandom has moved on from making Miguel the resident villain, and onto everyone hating George and his freaking crockpot.
Check out the best, most emotional reactions to Jack's death finally being revealed on This Is Us below:
But aside from all the George and crockpot hate, This Is Us fans were also incredibly shook by the tear-inducing promo for the next new episode, which promises to be the final one where we actually witness Jack's death. Unfortunately, we are going to have to wait an extra week to finally see it, since it will (fittingly) be airing right after the Super Bowl on NBC. But without a doubt, this episode promo has to be the saddest, most emotional clip that This Is Us has given us... and that's saying something for a show with a marketing strategy that is basically "We are going to make you guys drown in your own tears!" Check out the next episode promo, and how the fans are responding to it below:
Ugh... honestly that rip-out-your-heart promo video is only going to make the wait for the new episode even more impossible! But, at least we know that after the Super Bowl on Sunday, Feb. 4, we will finally have all the answers. This Is Us has been teasing fans about the details of Jack's death since the very first episode of the show, and now, over 30 episodes later, we are finally going to learn what actually happened. I just hope I'm emotionally prepared for it...