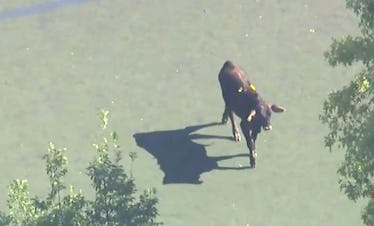 There Was A Bull On The Loose In Brooklyn & Twitter Was Seriously Cracking Up
It's another completely normal Tuesday in good 'ol New York City, everyone. The sun is shining, the crowds are hustling, and Brooklyn wildlife is freer than ever. No, I'm not talking about the sewer rats or the stray cats. I'm talking about the liberated bull that was roaming around one of Brooklyn's most popular parks. It started galavanting around the south side of Prospect Park in Park Slope in the early afternoon hours of Oct. 17, and citizens of the borough had a front row seat to the a-moosing mishap. However, those who weren't in Brooklyn when the bull ran free got to watch via live streams on Twitter — and the tweets about the Brooklyn bull on the loose are seriously hilarious.
Before we get to the punch line, let's talk about where this bull (first mistaken as a cow) even came from and how he got into the park. According to People, the bull wore tags that were similar to those of a slaughterhouse, and started running around Prospect Park earlier this afternoon. As the bull ran through the borough's vast greenery, crowds watched as authorities tried to capture it.
It's been reported by ABC 7 that a child in the crowd was actually injured by the bull. Apparently, the rambunctious animal knocked the child's stroller over near Park Circle and Prospect Park Southwest. While it's unclear what kind of condition the child is in, it's been confirmed that they were taken to a nearby hospital.
Those who stayed out of the bull's path by watching the chaos unfold on Twitter reacted in tons of different way as the big guy (or gal) ran through the park. Some people thought the sight was hilarious, while jaded New Yorkers weren't even fazed.
Some folks stood with the bull.
"Resist, Brooklyn Bull!"
"Run bull. Run!"
Others were simply confused it was a bull and not a cow.
Surprise. "It's actually a bull."
But was it a boy or a girl?
"You can tell we don't get a lot of cows around here by the fact that we're all calling is Brooklyn Cow when it's actually a bull."
I agree. I live in Brooklyn, and this is the first time I've ever seen a bull (or a "cow") roam in the park.
Heck, there was even a Twitter account created called "Brooklyn Cow" before it was officially proclaimed a bull.
He just wanted to be left alone.
According to the cow's Twitter bio, he's "just a cow trying to get the hell away from the hipsters in Brooklyn."
Another "cow" account that was made on Twitter was called "Prospect Park Cow." Its Twitter bio says, "Prospect Park is where I ran to. #NotGoingBack." According to this account, today was his birthday — and that's why he went to the park.
Anyway, soon after both "cow" accounts were made, a new account called "Brooklyn Bull" went up. Apparently, he just wanted to be free.
Whether people referred to the animal as a bull or a cow, they really loved it.
"Angel in the outfield."
Well, now that you've witnessed all the fun Twitter's had with the Brooklyn bull, let's talk about what happened when authorities finally caught him.
According to ABC 7, the bull was finally captured after "several hours" trying to obtain it, and apparently, it was tranquilized and taken from the Prospect Park. However, it's been reported by PIX 11 the cow will now be taken to a sanctuary after it supposedly escaped a slaughterhouse.
And that's that, everyone. Another Tuesday in New York City. Now, if you ever see a bull on the lose that isn't the Charging Bull in FiDi, you won't be so surprised.