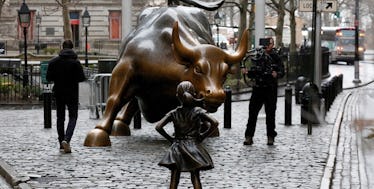 'Fearless Girl' Facing Down Wall St Bull Makes Important Point On Female Leaders
REUTERS
A new statue was installed in front of the iconic Wall Street Charging Bull on Tuesday, just in time for International Women's Day, and it sends a powerful message about gender equality and the need for increased female leadership.
The statue, named "Fearless Girl," is a fierce and defiant little girl, standing with her hands on her hips and her head held high.
Unfortunately, the statue will only be in place for about a week.
In a statement, Ron O'Hanley, president and CEO of State Street Global Advisors, which installed the statue, said,
Today, we are calling on companies to take concrete steps to increase gender diversity on their boards and have issued clear guidance to help them begin to take action. A key contributor to effective independent board leadership is diversity of thought, which requires directors with different skills, backgrounds and expertise.
There are a very small number of women running top companies in the US.
The message behind the "Fearless Girl" statue is unfortunately a response to a troubling reality.
Simply put, as a society, we are still a long ways away from truly establishing gender equality.
In spite of the fact that research shows companies with more female leaders have higher profits, a recent study from Fortune Knowledge Group found the number of women running the 500 most powerful companies in the US fell by over 12 percent in 2016.
The number of women holding CEO positions at Fortune 500 companies in the US last year was just 4.2 percent.
Translation: Only 21 companies on the entire list had women leaders.
Sadly, the lack of female leaders in the corporate world is not an isolated phenomenon.
The world needs more female leaders.
It's 2017, and in spite of all the advances we've made as a species, most of the world's countries have still never had a female leader -- including the United States.
According to Pew Research Center, the number of female world leaders across the globe has grown, but it's still a very small group.
Right now, there are 15 female world leaders currently in office, and eight of them are their country's first female leader.
These women represent less than 10 percent of United Nations member states.
This is not a coincidence.
As a planet, it's quite evident we need to fight much harder for gender equality. We have everything to gain and nothing to lose if we truly commit to this endeavor.
Citations: Why a defiant girl is staring down the Wall Street bull (CNN Money)