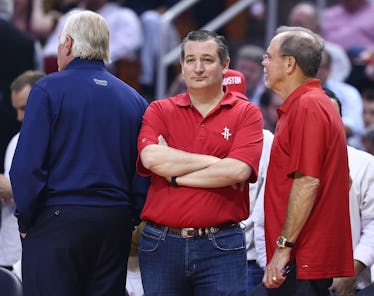 People Blamed Ted Cruz For "Cursing" The Houston Rockets & The Tweets Are Hilarious
Ronald Martinez/Getty Images Sport/Getty Images
All it took was one tweet. Before the Houston Rockets' gut-wrenching loss in a do-or-die game against the Golden State Warriors — with a trip to the NBA Finals on the line — Texas Sen. Ted Cruz posted a picture court-side in support of his team. Next thing you know, tweets about Ted Cruz "cursing" the Rockets were a trend on Twitter, and the posts were as funny as they were predictable.
To be clear, the Rockets did seem cursed. Not only did one of their two star players, Chris Paul, get injured in the middle of their seven-game series against the defending champions, but the team also missed 27 straight three-point attempts on Monday night, May 28, a feat which is literally unheard of.
So, in the absence of sound logic to explain what happened, people turned to what will always be (let's face it) a popular target for blame: the nearest American politician.
"Rockets just decided to miss every damn shot. I blame that Ted Cruz tweet," tweeted SB Nation's Zito Madu.
"Ted Cruz once referred to a basketball hoop as a "basketball ring"... you brought this on yourself Houston," Boston Globe columnist Michel Cohen tweeted.
Yep, it was open season for Ted Cruz on basketball Twitter.
The "Ted Cruz curse" is yet another chapter in the senator's interesting relationship with basketball. For starters, that relationship features an uncanny resemblance to Duke University basketball star Grayson Allen.
Plus, lest we forget, that resemblance was also the source of an achievement that no one can ever take away from him: burning Deadspin. After the sports site asked for proof the senator can play basketball, Cruz's account tweeted back a picture of Allen.
Credit where credit is due, right?
Oh, and about that "basketball ring" comment that Cohen mentioned, that totally happened. While Cruz was campaigning for Indiana's Republican primary in April 2016, the Texas senator called a hoop a "ring" while trying to recreate a scene from the Indiana basketball-centric movie Hoosiers.
It was essentially the typical, cringe-worthy, out-of-touch moment that politicians are known for producing when they try to interact with, you know, normal people.
Regardless of how many people are blaming Cruz for a Rockets "curse," though, no politician got more heat on Memorial Day than former New York City Mayor Rudy Giuliani.
Giuliani, a recent addition to President Donald Trump's legal team, was celebrating his birthday on Monday at Yankee Stadium. When the stadium announcer shouted the former mayor out, he was roundly booed by Yankee fans.
Cruz wasn't the only famous face in attendance at the Rockets-Warriors game on Monday. Kylie Jenner sat court-side during the game with Travis Scott, a Houston native.
You won't hear anything about a Kardashian curse, though, despite that being a term that people love to through around in sports.
Nope, the curse accusations all belong to Ted Cruz on Monday night.
"The Rockets missing 27 threes in a row was totally Ted Cruz's fault," tweeted Adam Best, a liberal activist and co-founder of the sports site FanSided. "Him cursing them with his attendance is the only possible explanation."
"Hot take: Ted Cruz sitting court side played a bigger role to the rockets loss than Chris Paul not playing," March For Our Lives organizer Matt Deitsch added.
And then there were some who weren't unhappy about the result at all.
"I think it was an act of high patriotism for the Rockets to lose that game so that we don't have to see Ted Cruz at another sporting event," Esquire columnist Charles Pierce tweeted.
You can never be too sure, though. It's not like Cruz isn't used to endorsing an opponent.