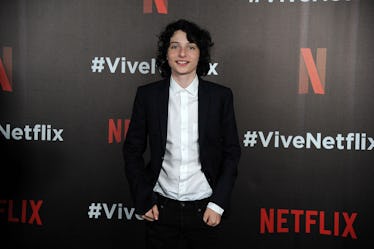 'Stranger Things' Star Quits APA After Former Agent Is Accused Of Sexual Assault & Twitter's Proud
BERNARDO MONTOYA/AFP/Getty Images
Since the news broke earlier this month of sexual assault and sexual harassment allegations leveled against Harvey Weinstein, there have been many more allegations of misconduct, harassment, and assault coming out of Hollywood. The most recent news involves one of the young stars of Stranger Things taking a stand for of all the alleged victims of sexual assault allegedly perpetrated by Finn Wolfhard's former agent, Tyler Grasham. Once the news broke, Twitter had nothing but praise for the young actor, and these tweets about Stranger Things' Finn Wolfhard quitting APA are a show of support for the actor's decision.
Elite Daily reached out to both Finn Wolfhard and Tyler Grasham's teams on the allegations against Grasham and Wolfhard's decision to part ways with his agent, but had not heard back by the time of publication.
According to the Los Angeles Times, 14-year-old Wolfhard severed ties with APA, his former talent agency, on Friday, Oct. 20, amid reports that his now-former agent Tyler Grasham allegedly sexually assaulted two men when they were younger. Not long after the announcement of Wolfhard leaving, APA announced that Grasham had since been fired from the agency. The allegations came to light on Monday, Oct. 16, when Blaise Godbe Lipman, a filmmaker, alleged that 10 years ago, when Lipman was a teen actor, Grasham allegedly "fed" him alcohol and then allegedly sexually assaulted him.
Since then, according to the Los Angeles Times, two other men have come forward with similar allegations.
Wolfhard has not yet released a statement with his reason for quitting APA. However, Twitter was quick to show the young actor praise for taking a stand against sexual assault and sexual harassment.
His age was brought up to show that it shouldn't be hard to do the right thing, no matter how old you are.
If a 14-year-old boy can stand up for the alleged victims of sexual assault, then men and women well beyond his years should be able to do the same, according to some tweets.
Courageous, indeed.
People were really touched by the actor's decision to stand up for others.
Applause was given.
Rightly so.
You can never have too many good examples in the world.
Wolfhard just joined the (hopefully) growing list of them.
In a time when these sad and scary allegations are swirling about, it's important to see the good in the world.
The It and Stranger Things star is definitely part of the good today.
If all the kids his age think this way, then there is definitely hope for the future.
A little empathy for others goes a long way.
Class act with a good head on his shoulders.
There really is no shortage of praise for the young actor.
Wolfhard isn't the only one in Hollywood reacting to these allegations. According to the Los Angeles Times, 18-year-old actor Cameron Boyce, who was a client of Grasham at APA, also fired Grasham before APA took the steps to fire him on Friday. Boyce was public about his reason to leave the agency and part ways with Grasham. Boyce's publicist, Kasey Kitchen said in a statement, "In light of the allegations, he felt it necessary to part ways with Tyler Grasham."
Twitter noted that protecting everyone from sexual harassment should be a top priority.
As disheartening as the news of these allegations is, it is good to see young actors like Wolfhard and Boyce stand up for the alleged victims. When young individuals make it look like a no-brainer to cut ties with someone who is accused of inappropriate sexual behavior, it provides some hope that all common sense and decency is not lost.
If the future is being shaped by upstanding individuals like these two young men, then maybe there is hope that survivors' voices will no longer be strong-armed into silence. And furthermore, it provides hope for a future where number of survivors of sexual assault and sexual harassment grows lower and lower until it finally reaches zero.