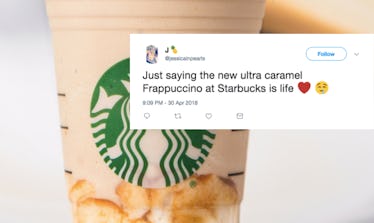 Starbucks' New Ultra Caramel Frappuccino Has Twitter In A Complete Frenzy
Starbucks
Starbucks announced a few new menu items this week, and coffee lovers are very much here for them. There is one beverage, in particular, that people are super excited about, and they are showing the love on Twitter. These tweets about Starbucks' Ultra Caramel Frappuccino TK
If the arrival of new drinks at Starbucks is news to you, then let me fill you in on all of the latest tasty offerings. Beginning Tuesday, May 1, U.S. and Canada Starbucks stores expanded the Frappuccino menu by two delicious drinks: the Ultra Caramel Frappuccino and the Triple Mocha Frappuccino. Even more exciting for fans of this frozen sip is that these two new frappuccino flavors are on the permanent Frappuccino menu, so you can go ahead and totally claim them as your new favorite drinks without worrying about when they might leave the menu.
The Ultra Caramel Frappuccino is five layers of caramel goodness. It starts out with Sweet Cold Brew Whipped Cream, then caramel sauce, blended caramel coffee Frappuccino, more whipped cream, and a final helping of caramel sauce. It's like the Caramel Frappuccino you know and love taken to the next level.
While the Starbucks description of what makes these drinks so delectable is enough for me to head to a Starbucks store ASAP for a taste of my own, there is plenty of love for the new sips on the internet to give you that extra push you might need to plunge into new frappuccino territory.
People are especially here for the Ultra Caramel Frappuccino, and they are spreading the frappuccino love on Twitter.
It seems pretty clear that people are liking the new Ultra Caramel Frappuccino that is here to stay on the Starbucks menu, and it turns out that this might actually be a bigger deal than you thought. According to Starbucks, the arrival of these newest frappuccino flavors is the "first time in years" that Starbucks has permanently added new frappuccino flavors to its menu. No wonder coffee lovers everywhere are rejoicing!
You can probably tell from the hyped-up tweets about the Ultra Caramel Frappuccino that this sip is different from the classic Caramel Frappuccino that has been your trusty drink of choice ever since the days when you spent every weekend roaming the mall in your Limited Too denim skirt (you know what I'm talking about). This heightened version of the frappuccino takes the drink to "the next level," according to Starbucks. With its "extra texture and beautiful layers," you'll quickly understand why it is the "ultra" version. If that's not enough for you, though, you're sure to recognize that this frozen sip is bursting with "tons of flavor."
The Ultra Caramel Frappuccino sounds like the perfect drink to make its way into your regular Starbucks order rotation, but you shouldn't forget about the other drink joining the Starbucks menu for a permanent stay. Triple Mocha Frappuccino tastes similar to the OG Mocha Frappuccino, but it also has layers of Sweet Cold Brew Whipped Cream and dark mocha sauce.
If you're anything like me, then one of the parts you most look forward to when ordering a frappuccino is the the whipped cream on top. Starbucks' whipped cream is already pretty dang delicious, but they did something I didn't even know was possible: they made whipped cream even better. Yep, Starbucks introduced their new Sweet Cold Brew Whipped Cream made with "cold brew coffee, dark caramel sauce, and white chocolate mocha sauce," and now you can really take your frappuccinos to the next level.
While it's obvious Starbucks fans are overjoyed about the new Ultra Caramel Frappuccino, I would bet that the Twitter love for Starbucks' new cold brew-infused whipped cream isn't far behind.