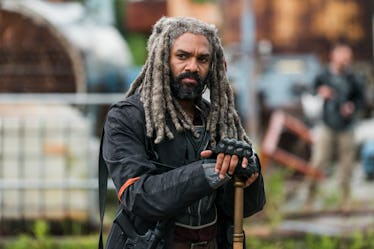 This Might Be The Most Heartbreaking 'The Walking Dead' Death & Everyone's Freaking
Gene Page/AMC
The Walking Dead fans were definitely spooked for a long minute during the show's fourth episode of the season. King Ezekiel and his team ended up getting ambushed and we were left with a cliffhanger last week, not knowing whether Ezekiel would make it out alive or not. Well he did make it out of the episode alive — but sadly, his beloved tiger Shiva did not. And the tweets about Shiva's death on The Walking Dead are too much to handle.
We knew something was gonna happen to King Ezekiel by the way we left things off in Episode 3 of The Walking Dead, when Ezekiel and his team were surrounded by snipers that killed the majority of his crew. As the Saviors opened fire on the Kingdommers below, King Ezekiel was shielded from the gunfire by his followers, who jumped on him to protect him. But from the looks of it at the end of last week's episode, he was pretty much a goner.
And fans thought so too. After digging his way out of a pile of his followers' bodies, we found Ezekiel captured by a low-level, creepy Jeffrey Dahmer look-alike Savior who not once, but twice was this close to taking him out. But Ezekiel's follower Jerry came to the rescue and sliced wannabe Jeffrey Dahmer in half, so all was well again.
But sadly, the sigh of relief didn't last long. At the tail end of the episode, Ezekiel's beloved tiger and protector Shiva fell victim to a band of zombies. Shiva jumped in to sacrifice herself after Jerry, Ezekiel and Carol found themselves surrounded by a group of walkers which ripped the out hearts of fans nationwide. And the tweets about her death are seriously making this the most heartbreaking death of the season:
This death could possibly be a major turning point for King Ezekiel. Since being introduced in Season 7, Shiva has become a beloved fan favorite. I mean who doesn't love CGI anything (re: the dragons on Game of Thrones). Before the apocalypse, Shiva lived in a zoo that Ezekiel worked at. Ezekiel came to her rescue when she fell into some concrete, badly injuring her leg. With no vets around Ezekiel managed to bind her wound, possibly saving her life. And she's been grateful for it ever since.
Shiva has become synonymous with King Ezekiel and the Militia, and is revered as a protector by fans. She famously saved Carl Grimes, who was almost killed by Negan during a battle in "The First Day of the Rest of Your Life", the show's Season 7 finale. Shiva time and time again has proven herself as an instrumental member of King Ezekiel's team. She's a morale booster and comes to the rescue every time she's needed. And sadly, Shiva's nature to put others before herself and protect the Militia ended up killing her. She threw herself at a group of walkers so that King Ezekiel could make it out alive, and fans didn't take the loss well:
This loss also begs questions concerning King Ezekiel's fate for the rest of the "All Out War" season of The Walking Dead. Could this be a turning point for this character? Are we now going to see Ezekiel go dark? Will it be similar to Morgan's dark turn after his character's suffering that's presented itself throughout the series?
We'll have to wait another week to find out. But until then, let us all mourn the loss of Shiva. She and the awesome experience of watching a CGI tiger on The Walking Dead will sorely be missed.