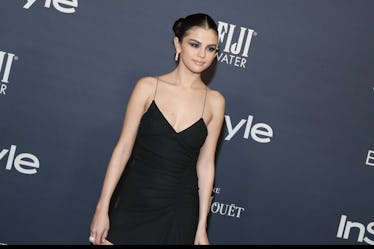 Tweets About Selena Gomez's "Wolves" Music Video Prove Fans Are In Love
Jonathan Leibson/Getty Images Entertainment/Getty Images
Selena Gomez has been having quite the year, first dating and then breaking up with fellow pop star The Weeknd (real name Abel Tesfaye) and then getting back together for the third time with her first love, Justin Bieber. In between all these personal life moments, she's still putting out music. The latest is a collaboration with DJ Marshmello, called "Wolves." Released just a few weeks ago on Oct. 25, the official video debuted on Friday, Nov. 17 ahead of the AMAs. And from the tweets about Selena Gomez's "Wolves" music video, it seems like fans were duly impressed.
For those who are curious what the song is about, here are the lyrics. For most of her fans it seems like she's in love for good now.
In your eyes, there's a heavy blue/One to love and one to lose/Sweet divide, a heavy truth/ Water or wine, don't make me choose
I wanna feel the way that we did that summer night (night)/Drunk on a feeling, alone with the stars in the sky
I've been running through the jungle/I've been running with the wolves/To get to you, to get to you/I've been down the darkest alleys/Saw the dark side of the moon/To get to you, to get to you
I've looked for love in every stranger/Took too much to ease the anger/All for you, yeah, all for you/
I've been running through the jungle/I've been crying with the wolves/To get to you, to get to you (oh to get to you)
Your fingertips trace my skin/To places I have never been/Blindly I am following/Break down these walls and come on in
Check out a clip of the video, which is available through Apple Music:
Gomez's fans are loving it.
This is a great way for Selena to start the weekend, by the way. A lot of pop stars are going to be making a rush to make headlines this coming Sunday at the American Music Awards, and she just got a head start.
With this arrival, fans are now extra hyped for her performance this coming weekend.
Oh, speaking of weekends (and lonely star boys), we can't help but also consider that Selena's decision to drop the video ahead of the main AMAs event is also to make sure there's a smooth change in the conversation surrounding her when she arrives on the red carpet on Sunday.
Consider that prior to the video arriving, the major thing most people thought of when you mentioned Selena Gomez was her recent and sudden breakup with Abel Tesfaye, aka The Weeknd. Both artists may be putting in an appearance on the red carpet on Sunday, but only one of them is certain to (maybe) have a new date on their arm: Selena, who in the wake of said breakup has gotten back together with Justin Bieber.
This would probably be the main talking point she'd be facing on the carpet, if she didn't give those who are asking the questions something far more interesting to ask her questions about. Now with the arrival of her video, Ryan Seacrest and all the rest will have something far more career-oriented to talk with her about instead of which guy she happens to be linked to.
Exactly! It's really good, we're happy for her, and let's forget all that other nonsense, right? The fact that she's now dating Bieber again after two messy breakups, like that high school friend who keeps going back to that loser she's been on-and-off with since ninth grade? You know, the relationship where she always tells you she's so happy, and all the rest of you in the friends group are like: "These guys are so toxic for each other, OMG, why, oh why must we continue to watch this painful cycle play out over and over?"
At least her music is good, and for now, we can think about instead what a great performance she's going to put on on Sunday at the AMAs.