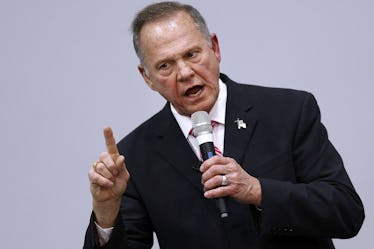 Roy Moore's "Bring. It. On." Tweet Reminded People Of The Movie & Things Got Awkward
Jonathan Bachman/Getty Images News/Getty Images
Roy Moore's attempt at antagonizing a Republican leader got really, really awkward on Wednesday, Nov. 15. Moore — the embattled Alabama Senate candidate who has been accused of pursuing minors when he was in his 30s — tweeted a short message at Senate Majority Leader Mitch McConnell: "Bring. It. On." The post very clearly reminded people about the movie of the same name and tweets about Roy Moore's inadvertent Bring It On reference were sure to point out the irony.
"Referencing a high school cheerleading movie probably isn't the best idea right now, judge," tweeted conservative writer Shoshana Weissmann.
"'Bring It On' was a movie about high school cheerleaders," tweeted New Republic senior editor Jeet Heer, "so not surprising the phrase stuck in Judge Moore's mind."
Meanwhile, the actual director of Bring It On had a response that took on a much more aggressive tone. "You're not allowed to use the name of my cheerleader movie, you fucking pedophile," Bring It On director Peyton Reed tweeted.
Moore's tweet on Wednesday had been just the latest in a serious of public messages directed at Majority Leader McConnell, the 75-year-old GOP senator who is opposed by insurgent conservative figures like Steve Bannon, who himself supports Moore. In the wake of a Washington Post report that detailed the stories of four women who said Moore pursued them when they were teenagers, McConnell called for the Alabama Senate candidate to step out of the running for the state's special election in December. Moore has largely denied any wrongdoing with underage girls.
Moore then began responding to McConnell in a defiant fashion. On Monday, Nov. 13, the former Alabama supreme court justice tweeted: "The person who should step aside is @SenateMajLdr Mitch McConnell. He has failed conservatives and must be replaced. #DrainTheSwamp." The following day, Moore alluded to a future effort to try to take down McConnell from his majority leader position.
"The good people of Alabama, not the Washington elite who wallow in the swamp, will decide this election! #DitchMitch," Moore wrote. In a follow up tweet, the 70-year-old candidate said, "Alabamians will not be fooled by this #InsideHitJob. Mitch McConnell's days as Majority Leader are coming to an end very soon. The fight has just begun."
And then, on Wednesday night, there was the "Bring. It. On" tweet.
Moore's latest return to his anti-McConnell rhetoric, however, didn't seem to go as smoothly, as these responses indicate.
Another notable response to Moore's tweet on Wednesday night came from Chris Hansen, the executive director of the National Republican Senatorial Committee.
On Twitter, Hansen simply pointed out, "Bring It On is a movie about high school cheerleaders." The tweet is worth noting, not simply because Hansen is a leader of an important GOP committee, but also because that committee had cut ties to Moore and ended a fundraising agreement it had with the candidate.
The committee's chairman, Sen. Cory Gardner of Colorado, would then go on to raise the possibility of expelling Moore from the Senate in the event the former judge wins the December race. Sen. Gardner said, per Politico,
I believe the individuals speaking out against Roy Moore spoke with courage and truth, proving he is unfit to serve in the United States Senate and he should not run for office. If he refuses to withdraw and wins, the Senate should vote to expel him, because he does not meet the ethical and moral requirements of the United States Senate.
Despite the number of Republican senators who have called for him to step down from the race, and the increase in the amount of women who have accused him of pursuing them when he was in his 30s and they were teenagers, Judge Moore has refused to back out of the race.
However, the recent allegations appears to be having a tangible effect on his candidacy, as polls show him trailing his Democratic opponent, despite no Democrat having won a Senate seat in Alabama in decades.