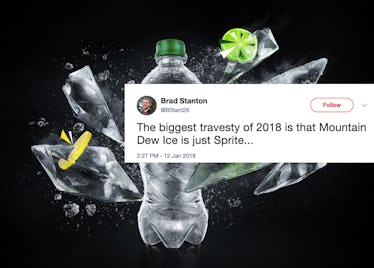 Mountain Dew Launched A New Flavor & Twitter Is Trolling Them For One Reason
Whenever a new product is introduced, checking out Twitter reactions is your best bet to find out how people are really feeling about it. The latest beverage under review is a new flavor from Mountain Dew. The caffeinated soft drink is getting a refreshing lemon-lime twist, but these tweets about Mountain Dew Ice tasting like Sprite might give you pause before head out to grab your own case of the new soda.
The newest addition to the already delicious (just sayin') Mountain Dew lineup is a clear lemon-lime flavored beverage. According to a Jan. 9 Mountain Dew press release, the PepsiCo-owned company is introducing Mountain Dew Ice (MTN DEW ICE) as, "...the answer for those looking for a thirst-quenching lemon-lime flavored beverage to keep them invigorated throughout the day." The taste of the caffeinated lemon-lime beverage is described on the Mountain Dew website with phrases like "clear and refreshing."
You might be wondering what separates Mountain Dew Ice from the pack when it comes to its citrus soda competitors, and the answer is the caffeine. Beverages like 7 UP, Sprite, and PepsiCo's Mist Twist are all caffeine free, according to Brand Eating. That's why Mountain Dew is touting that Mountain Dew Ice can deliver on both the refreshing lemon-lime taste and the caffeine jolt fronts.
Mountain Dew Ice was announced in a video on the brand's Twitter page.
The new beverage will be available in retailers nationwide on Monday, Jan. 15 in a variety of sizes, including 12-packs of 12-ounce cans and 20-ounce bottles.
Before you treat yourself, though, you might want to check out the reception that Mountain Dew Ice is already receiving thanks to some early taste testers — and it's receiving one very unanimous comparison. Spoiler: it's Sprite.
It's already being referred to as a low point in this very new year.
"The biggest travesty of 2018 is that Mountain Dew Ice is just Sprite..."
Maybe the lemon-lime connection is just too close for some people.
"So Mountain Dew Ice is just Sprite."
The amount of lemon flavor in Mountain Dew Ice was a sore spot.
While it received high scores against Mist Twist, it was "slightly too lemony to make it better than Sprite."
This review could go either way, but it sounds slightly positive.
So, is it a good thing to be "fancy Sprite"?
Disney was brought into the mix (?) with this Sprite comparison.
"The new Mountain Dew Ice tastes just like Sprite..."
For the record, Disney does not own PepsiCo, which owns Mountain Dew.
While one person thought it "tasted too much like Sprite," they didn't want to make up other people's minds for them.
"I though Mountain Dew Ice was terrible, but that's my personal preference."
There were some props given to the new Mountain Dew Ice.
While warning Sprite and 7 UP, one fan said, "That new Ice flavor you put out is going to kill them."
Think of it like Sprite with an extra boost.
"Mountain Dew Ice: the Sprite for caffeine lovers."
Maybe it's good for Sprite fans who have a super active sweet tooth.
"Tastes like Sprite but with much more sugar."
This final Sprite comparison ends on a positive note.
"Mountain Dew Ice. Not bad. It tastes like Sprite."
So, if you've ever sipped a Sprite, you now have an idea of what you might expect (according to Twitter) if you partake in the new Mountain Dew Ice — plus caffeine, of course.
Is 2018 the year of trying new things for you? Well, soda companies are apparently here to help you with that, because Coca-Cola also just recently announced a variety of new Diet Coke flavors. To keep it all citrus all year long, you can grab a new Ginger Lime or Zesty Blood Orange Diet Coke.
Once you've gotten your cola fix, you can have your very own taste test to reach a verdict on the new Mountain Dew Ice. You might join the ranks of the Sprite comparisons, or you might go your own damn way. Whatever happens, you'll be keeping it citrus-y cool in 2018.