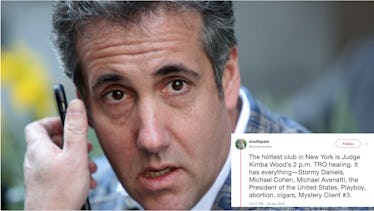 A Famous Name Just Came Up In The Drama Around Trump's Lawyer & Twitter Is Shook
Yana Paskova/Getty Images News/Getty Images
It looks like there is a little more drama to add to the ordeal over President Donald Trump's lawyer, Michael Cohen. Apparently he has a pretty famous mystery client: Sean Hannity. And these tweets about Michael Cohen and Sean Hannity show that this news has people pretty shook.
In a court filing on the morning of Monday, April 16, Cohen's lawyers argued that he should not be required to divulge the identity of his clients. According to Reuters, Cohen had 10 clients between 2017 and 2018, and performed "traditional legal tasks" for three of them. One was Trump, the other was former Republican National Committee official Elliot Broidy, and the third one asked not to be named.
Despite Cohen's legal team not wanting to disclose the identity of the third client, Judge Kimba Wood said that they did not meet "the standard for an exception that client identity or even fee arrangements must be revealed." So Wood ordered Cohen to reveal his third client during the Monday, April 16 court ruling in New York — and Cohen revealed that he once represented Fox News pundit Hannity, according to CNBC.
Judging by how Twitter reacted, no one was expecting that Hannity would turn out to be Cohen's mystery client, but it didn't stop them from having a field day with the news.
Many people pointed out that Cohen representing Hannity is a total conflict of interest. They pointed out that he has run several segments criticizing the April 9 raid on Cohen's office and home by the Federal Bureau of Investigation (FBI). Yet, Hannity has never disclosed his professional relationship with Cohen.
After the raid on Cohen's home and office, Hannity did a segment on his show calling Robert Mueller's investigation into possible collusion between the Trump presidential campaign and Russia "corrupt" and "out of control" (Mueller's investigation reportedly referred information to the FBI which led to the search warrant for the raid). Hannity alleged that Mueller's only goal is to get Trump out of office and said that with the FBI raid on Cohen, he has "declared war against" the president. He said,
Mueller has ostensibly tonight declared war against the President of the United States. Clearly his objective is to remove [Trump] from office.
While he was calling out the raid, and calling Mueller corrupt, he completely forgot to mention that he is Cohen's client. Not very transparent, huh?
In light of the news, Hannity responded with a series of tweets on April 16. In his first tweet, Hannity said that Cohen never actually "represented [him]," but that he would sometimes ask Cohen some legal questions. Hannity wrote,
Michael Cohen has never represented me in any matter. I never retained him, received an invoice, or paid legal fees. I have occasionally had brief discussions with him about legal questions about which I wanted his input and perspective.
Then in a second tweet Hannity shared that he "assumed those conversations were confidential." Then assured everyone that they never had to do with him and a "third-party." He wrote,
I assumed those conversations were confidential, but to be absolutely clear they never involved any matter between me and a third-party.
A little while later Hannity added that he in no way asked Cohen to bring a proceeding on his behalf and that all of his questions were real estate related.
Regardless of whether Cohen represented Hannity in any actual way, there is a reason that Hannity appears on the client list. With no records, and some brief conversation, why would it have been there at all? Aside from that, it still seems a little fishy for Hannity not to disclose his relationship with Cohen before blasting Mueller and covering the raid. Even if it was just some legal questions amongst friends, he should have covered all his bases.