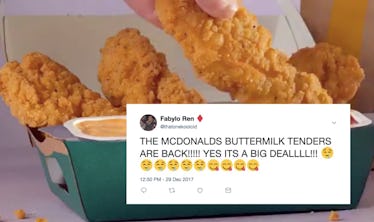 McDonald's Buttermilk Crispy Tenders Are Back & Twitter Is Losing Its Mind
Before you get to clearing out all of the delicious food you've been indulging in this holiday season (in an effort to "eat healthier" in the new year), you might want to make one last trip to the drive-thru. McDonald's announced that they are bringing back the fan-favorite Buttermilk Crispy Tenders, and that sounds like as good a reason as any to head to McDonald's before the new year. If you need a little more prodding, these tweets about McDonald's Buttermilk Crispy Tenders coming back should sway you right in the direction of the McDonald's ordering window.
Even if you're super stoked to snack on McDonald's Buttermilk Crispy Tenders ASAP, you can still enjoy the Buttermilk Crispy Tenders even after you ring in 2018. McDonald's announced the good news on their Twitter page on Thursday, Dec. 28 in a video tweet where they said, "The #ButtermilkCrispyTenders that you love so much have returned!"
There was no mention of an end-date of the Buttermilk Crispy Tenders' availability (yay!), and McDonald's announced the news with a fun video that featured jubilant grandmothers excited to get their free time back — because apparently grandma's recipe was your go-to (obviously) for fried chicken before McDonald's swooped in with its fast-food version of the dish.
McDonald's showcased the Buttermilk Crispy Tenders alongside the ecstatic "grandmas."
Gram' isn't the only one excited by this news, though. McDonald's loyalists were just as thrilled to hear about the return of the Buttermilk Crispy Tenders, and tweeted out their approval.
Nothing screams excitement like all caps and all the emojis.
"YES, IT'S A BIG DEALLLL!!!"
Sometimes Seinfeld dancing GIFs are the only way to express your true happiness.
Same, TBH.
"Let's jump for joy!!!!"
I didn't even know a cartwheel emoji existed before I saw this tweet.
Excitement doesn't mean that McDonald's fans lose their manners.
"Thank you."
One fan shared the news with other Buttermilk Crispy Tenders loyalists in this helpful PSA.
"You're welcome."
The Buttermilk Crispy Tenders were first introduced back in September 2017, and then quickly sold out, according to Delish. As excited as fans were about their return, they couldn't help but wonder if the tenders' one true pairing would also come back.
Immediately, people began asking if McDonald's Szechuan Sauce would be making a return for their dipping pleasure. The dipping sauce made famous by the Rick and Morty television show and made a grand return to stores in October 2017 (after first being released for a limited-time in 1998 as a promotion for the movie Mulan). McDonald's Szechuan Sauce (much like the Buttermilk Crispy Tenders) could not meet the demand and sold out not long after being released.
"What's good with that Szechuan Sauce though?"
One fan provided evidence of the sauce's deliciousness via a Rick and Morty clip.
"I want that Mulan McNuggets sauce."
"We need it!!!"
People need answers to these important Buttermilk Crispy Tenders dipping questions.
"But when will the SZECHUAN SAUCE return??????"
Fans clearly have a sauce preference when it comes to their dipping needs, and they will do pretty much anything to get it. Back in October when the sauce sold out, one enterprising woman traded a packet of McDonald's Szechuan Sauce for a car. Yes, you read that right: a man sold his 2004 Volkswagen GTI for one packet of the stuff.
Don't go trading your car keys in just yet, though. McDonald's tweeted back in October that all might not be lost for Szechuan Sauce fans.
McDonald's said that, "Szechuan Sauce is coming back once again this winter."
Seeing as it's almost January, you might not have to wait long at all to get your hands on the coveted McDonald's Szechuan Sauce once again. On top of that, you'll have the delicious Buttermilk Crispy Tenders with which to enjoy your number one dipping sauce. Sounds like a very happy (and tasty) new year, indeed!
Check out the entire Gen Why series and other videos on Facebook and the Bustle app across Apple TV, Roku, and Amazon Fire TV.