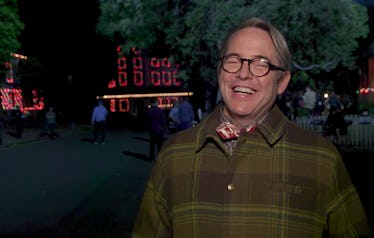 Fans Are Mad About This Huge Change In 'A Christmas Story Live!' From The Original
If you're like me, you've had your calendars marked for Sunday, Dec. 17, for weeks to watch FOX air A Christmas Story Live! The three-hour production involved an epic set, beautiful costumes, catchy tunes, and one very, VERY present Matthew Broderick. Fans definitely noticed. Tweets about Matthew Broderick in A Christmas Story Live! prove viewers preferred the original movie slightly more than its live rendition, and a lot of it had to do with his role.
Think back. It was a simpler time. It was 1983, and Ralphie Parker just wanted a Red Ryder, Carbine Action, 200-shot Range Model air rifle for Christmas. His dad just wanted to win an award. His mom just wanted some peace and quiet. Chaos ensued, obviously. One of the key details in the original movie included some classic narration from adult Ralphie, who told the tale from his memory. In the film, we hear adult Ralphie's voice describe each scene, but we never see him in any of them.
Then, FOX announced that A Christmas Story Live! was coming. They also dropped their epic cast list which included fan favorites like Maya Rudolph, Jane Krakowski, Ana Gasteyer, and Ken Jeong. On this list was musical alum Matthew Broderick, poised to play adult Ralphie.
Right away, fans began wondering if we would see Broderick, or simply hear him like in the original. Well, we have our answer.
Oh, we saw him alright. We saw him A LOT.
Viewers felt that by infusing Broderick into almost every scene, they took away some of the magic of Christmas in A Christmas Story.
More than anything, viewers felt that he was totally distracting and took away from the awesome performances of little Ralphie and his family and friends.
To Broderick's credit, what was he going to do? Turn down an opportunity like this? Hell no. You don't turn down a live musical when FOX comes a-knockin'.
In a funny behind-the-scenes video, Jane Krakowski tells cameras that she has a question for Broderick. She asks, "How many lines does he have written throughout all of the sets, and where are they hidden?"
In response, Broderick laughs and displays that he does, in fact, have a bunch of his lines written down on notecards. He says,
I haven't figured that out yet, I am still working on that. I have these little cards in my pocket, but uh, I am gonna try to find spots. That's a very good question. So far, I'm going bareback.
It's a funny detail to know, considering many people criticized his performance and noticed that he fumbled over a few lines or seemed to miss his cue. Again, he's in the whole freaking show, so it's a lot to memorize, but still.
In contrast, highlights came from hilarious actresses Maya Rudolph as Ralphie's mom, Jane Krakowski as Miss Shields, and Ana Gasteyer as Mrs. Shwartz. Chris Diamantopoulos also totally killed as Old Man Parker, and actor Ken Jeong made some welcome cameos as a Christmas tree salesman and a restaurant owner.
Despite Broderick, fans still loved a walk down memory lane and overall found the entire show to be cheer and nostalgia-inducing. I mean, few things say "It's Christmas time!" as much as a leg lamp and a little kid in round glasses.
Thanks for the good times, FOX! And Broderick, don't quit your day job. (I'm KIDDING! This is your day job! Don't beat yourself up. You're always Bueller in my eyes!)
Check out the entire Gen Why series and other videos on Facebook and the Bustle app across Apple TV, Roku, and Amazon Fire TV.