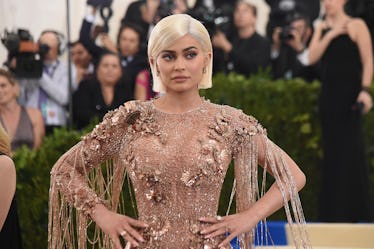 Kylie Jenner Finally Returned To 'KUWTK' & Fans Are So, So Relieved
Nicholas Hunt/Getty Images Entertainment/Getty Images
We've been waiting for this moment, dreaming about this moment, and now, at long last, the moment is finally here. This is not a drill, guys. This is Not. A. Drill. After disappearing for an entire season, Kylie Jenner returned to Keeping Up With The Kardashians on March 4, 2018, for the finale, and I seriously couldn't be more excited! And I wasn't the only one who was super pumped to see the preggers lip kit queen. Tweets about Kylie Jenner on KUWTK show fans are so happy she's back.
I legit didn't even realize how much I missed seeing KyKy on the show until she suddenly popped back up on my screen rocking her adorable little baby bump in a black and white sweatsuit. Not gonna lie, her appearance just totally made my night. And the best part about Jenner's big return is the fact that she was hanging with big sis Khloé, who is basically her pregnant twin, since the two are only a few months apart. So watch your backs, North and Penelope, because there's a new set of close-in-age K-J cousins coming to town!
"We're three months apart," Khloé tells a third pregnant woman, who it turns out, is actually Kim's surrogate! "Me and her. We both have never been through this before!"
How sweet is that? I mean, can we all just take a minute to imagine how cool it would be to be preggers at the same time as your older sister? Pretty jealous of everything Khloé and Kylie have going on here, TBH. And I'm totally feeling Jenner's return to the show in general — and Twitter, it seems, is here for the reunion as well.
Obviously, in the real world, Kylie has already had her baby. She announced the news on Instagram back on Feb. 4 that she and boyfriend Travis Scott had welcomed a little girl.
"I'm sorry for keeping you in the dark through all the assumptions," she wrote. "I understand you're used to me bringing you along on all my journeys. My pregnancy was one I chose not to do in front of the world. I knew for myself I needed to prepare for this role of a lifetime in the most positive, stress free, and healthy way I knew how. There was no gotcha moment, no big reveal I had planned. I knew my baby would feel every stress and every emotion so I chose to do it this way for my little life and our happiness."
#Respect
Then on March 1, Jenner shared an adorable birthday post featuring a full-length shot of herself carrying her baby girl, who, ICYMI, is named Stormi.
"My angel baby is 1 month old today," the lip kit mogul captioned the picture. I serously cannot stop looking at this beuatiful image. And how dope is Kylie's tracksuit?
A few days later, Jenner shared a close-up of video of Stormi sucking on a pacifier on Snapchat:
I could legit watch this all day. What a beautiful babe! And Kylie's fans seem to think she looks a lot like, well... Kylie.
"Kylie's genes came through STRONG with Stormi," wrote one.
"The resemblance is insane, right?" added another. "Stormi is Kylie's mini me!"
And from a third: "Why does Stormi look more like Kylie than Kylie did lol."
Good question!
Meanwhile, it was also revealed during the March 4 episode that Khloé is also having a girl! So in case you've now lost track, Kim, Kylie, and Khloé will all have girls around the same age growing up together! It's like Kourtney, Kim, and Kylie all over again!
I think it's pretty clear who runs the world!