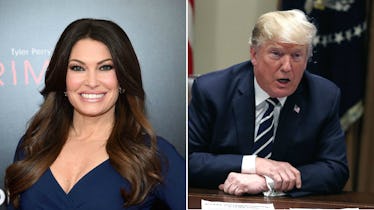 Kimberly Guilfoyle Is Leaving Fox For Trump's 2020 Campaign & It's Not Surprising
Jamie McCarthy/Getty Images Entertainment/Getty Images // Mark Wilson/Getty Images News/Getty Images
One Fox News host's close relationship with the inner circle of President Donald Trump is about to get a lot closer, it seems. On Friday, July 20, reports surfaced that Kimberly Guilfoyle, a co-host on The Five, is reportedly leaving the network to take a job campaigning for Republicans, and the news isn't going unnoticed. On social media, tweets about Kimberly Guilfoyle leaving Fox for Trump's 2020 campaign are calling attention to the host's connection to the White House.
Guilfoyle is said to be taking a job with America First Policies, a political action committee (PAC) that promotes Trump and his platform. News of her move was apparently first reported by Vanity Fair's Gabriel Sherman.
Guilfoyle is currently dating Donald Trump Jr., the eldest son of the president. The host has also been a longtime fan of the Trumps, judging by her regular retweets of various members of the Trump family. And their rapport seems to have been mutual. Per a May 2015 tweet, the president bought her book, and she attended a dinner at the White House in July 2017.
Speaking to Fox Business Network's Lou Dobbs in late June 2018, she defended the president as the country's primary season was fully underway. "The man knows what he's doing," she told Dobbs of Trump. "He's fulfilling all of his campaign promises. He's under-promised and over-delivered."
Guilfoyle's coziness with the first family prompted backlash when the news broke that she was accepting a job with America First. "Kimberly Guilfoyle isn't really leaving Fox News, she's just transferring to another department within the Trump campaign," tweeted writer and comedian Marie Connor.
"I'm not sure your future fathers in laws super pac is a promotion," tweeted Molly Jong-Fast.
"Given that the White House and Fox News are essentially mid-merger," tweeted The Atlantic's Derek Thompson, "Kimberly Guilfoyle isn't resigning so much as being transferred from public relations to biz-dev and marketing."
According to Anna Massaoglia of the Center for Responsive Politics, which runs the site OpenSecrets.org, America First Policies is an arm of America First Action, a PAC that doesn't need to disclose who its donors are.
Per OpenSecrets, America First Action had raised over $2.5 million against Democratic candidates, and over $16 million for the 2018 cycle total, as of July 9. As a "super PAC," there are no limits to how much money it can receive or spend during an election cycle. According to CNN, donors for America First had been "actively trying to recruit her" for the role.
Per Politico, Guilfoyle is also expected to join Trump Jr. as he hits the campaign trail, pushing for key Republican candidates in this fall's midterm election season. The eldest Trump son is seen as a key player in the party's push ahead of November.
Guilfoyle and Trump Jr. were first reported as dating in May, just two months after Trump Jr.'s ex-wife, Vanessa, filed for divorce. They'd been married 12 years and together had five children.
In fact, there are hints that Guilfoyle, who's been married twice previously herself — one of her exes is progressive California gubernatorial candidate Gavin Newsom — may not be far from tying the knot with Trump Jr. She'd already met her boyfriend's fam, but this time in an official SO capacity when she spent the Fourth of July this year at the White House.
Per CNN, it's unclear when Guilfoyle's new job will begin or when she will step down officially from Fox.