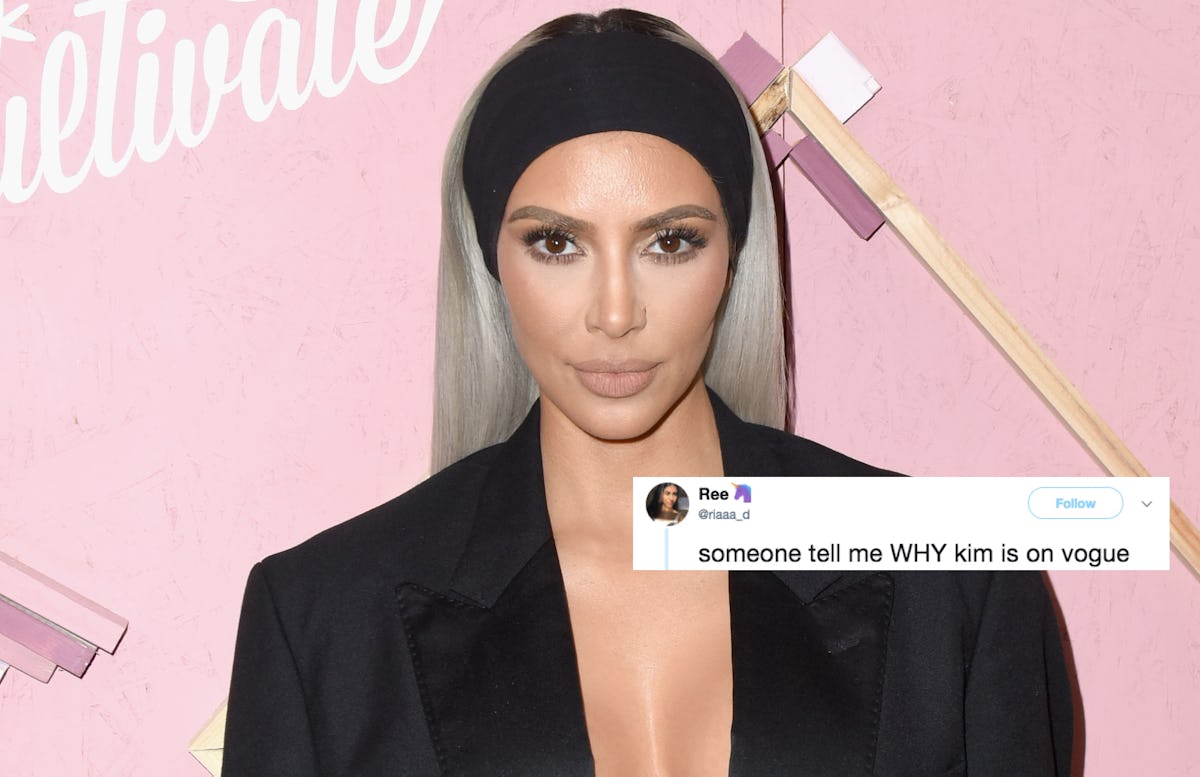 Kim Kardashian's 'Vogue India' Cover Shoot Is Making People Pissed For This Reason
Kim Kardashian has been featured on the cover of Vogue a bunch of times now. Her most recent cover is the March issue of Vogue India, and while Kardashian has been posting photos from the cover shoot on social media showing her pride in the cover, others have been posting about their disapproval. The tweets about Kim Kardashian's Vogue India cover show that people aren't pleased an Indian woman wasn't featured on the upcoming cover. With A Wrinkle In Time coming out so soon, there are those on Twitter who feel Mindy Kaling would've been a better choice for the March cover. Others have said Rihanna or the cast of Black Panther would have been better options, as they feel their recent work is more relevant and important than Kim Kardashian's.
Other women feel it's OK to have Kardashian on the Vogue India cover since they don't have international stars on the cover each month. According to those Twitter users, Indian women are well represented in Vogue India. But people still aren't pleased with Kardashian's cover, and the fact that the editorial team dressed her in traditional Indian clothing for some of the photos. (Kardashian is wearing a lehenga in one of the shots — traditional Indian attire that features a top and a long, flowing skirt.)
People are arguing that the Kardashians are featured on enough magazine covers as it is. We don't need to see more, according to them.
Kardashian posted the photos of her Vogue India cover shoot on Instagram on Tuesday, Feb, 27.
The two photos she posted have raked in millions of likes combined, and people in the comments section have been generally positive about the images. But Twitter is a different story.
Still, there are those who feel it's not a big deal for Kardashian to be Vogue India's March cover star.
This isn't the only controversy Kim Kardashian's life has stirred up this week.
Kim, Kourtney, and Khloé Kardashian are currently on a girls trip in Japan and people are shaming Kim and Khloé for it.
The sisters decided to take a vacation to Tokyo together before Khloé gives birth to her first child, reportedly in March. People online are shaming Khloé for traveling while eight months pregnant, and others are shaming Kim for going on a vacation when she has a newborn baby at home. Social media users have been commenting about the sisters' trip online voicing their disapproval. For context, women are typically advised not to travel during their third trimester, especially abroad. It can expose the mother and baby to unnecessary health risks, and issues could also arise should the mother go into labor while on the trip and away from their doctor. But the American Congress of Obstetricians and Gynecologists says it's safe for women to travel up until the 36-week mark. Kardashian hasn't revealed her exact due date, but we do know she's eight months along based on her Instagram and Snapchat, so that means she's at least 28 weeks. As long as her doctor gave her the OK to travel, then she's set.
As for Kim Kardashian, she's entitled to going on a vacation with her sisters following the birth of baby Chicago West.
One Facebook user, according to Us Weekly, said, "A newborn and kids leaves the country for business!! And Khloe needs to quit whining about how her painful and difficult pregnancy. She looks fine in Japan!!" Neither Kim nor Khloé is a careless mother for traveling while pregnant/with a baby at home, though.
As for Kardashian's Vogue India cover, there are plenty of reasons the magazine would want her on the cover. She's running multiple successful businesses and is one of the largest social media figures in the world. But it is true that the entire Kardashian/Jenner family is arguably over-documented across print and online media. So, it's easy to understand the frustration of those who are sick of the family constantly being chosen for these accolades over other equally deserving people.